Some of you may have read my article on "Why I Love My Over the Door Shoe Organizers and How I Use Them in my Home.
UPDATE: I am NOW a proud owner of THREE more over the door shoe organizers! This time, I purchased the clear ones and I am in love with them. I love how much space I save by placing smaller items in these. My pantry has more space now (along with my medicine shelf which now is totally empty and ready for baby bottles at the end of the year!) I still love my mesh over the door shoe hangers, but I have decided to switch a few out with the totally clear ones so that I can see through them better. I placed a clear one in place of the one in my daughter's room for her small toys, a clear one in the pantry, and soon, I will replace the mesh one in the art closet with a clear one. All mesh ones will continue to be placed on doors around my house and used for other things. I moved the one from my daughter's room into the new nursery for small baby items like her knit hats, little socks, shoes, hand warmers, diaper rash cream and more!
Hopefully before the end of the month or so I will give you a new tour of my over the door shoe organizers. I plan to put one in the garage too for items like batteries, tools, and other small objects. I do prefer the clear plastic over the mesh/canvas hangers. You can find them for around $10 at Lowe's, Walmart, or Target if not cheaper! They create lots of extra space in your home for little odds and ends!
I keep all of the medicines at the top so that they are out of reach of children. Snacks are all towards the bottom.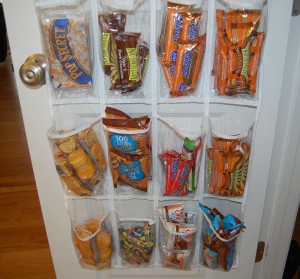 Note: My friend at Mommy Likes Deals is the one that inspired me on the idea of using over the door shoe organizers in the pantry.