With cool fall weather in the air, a hot bowl of chili hits the spot! This recipe for Warm White Chili is sure to be enjoyed by the whole family. It is simple to make and affordable as well!
Money saving tips: when possible, buy store brand beans, corn, green chilies, cheese and sour cream. Choosing frozen chicken breasts will also save money.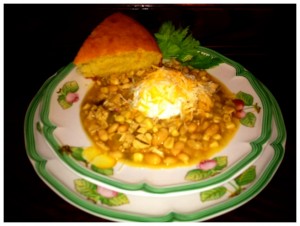 Warm White Chili
3 chicken breasts, cooked and diced
2 1/2 cups chicken broth or stock
2 cans great northern beans, drained (15 oz)
1 can white corn, drained (15 oz)
1 can chopped green chilies (4 oz)
1/2 white onion, diced
1 celery stalk, diced
2 gloves garlic, minced
1 tsp. ground cumin
1/2 tsp. salt
1/4 tsp. black pepper
1 Tb. olive oil
sour cream and shredded cheddar cheese for topping
Instructions:
Sauté diced onion and celery until tender in olive oil.
In a large pot, add chicken, broth, beans, corn, green chilies, onion/celery, garlic, cumin, salt, and pepper. Mix. Bring to a boil then cover and reduce to low heat and simmer for 45 min.
Top chili with sour cream and cheese. Can be served with corn bread.
Makes 4-6 servings.