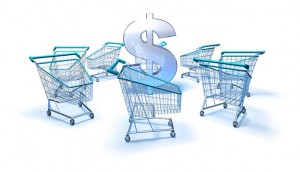 Note: This post was written in 2011 during the "Extreme Couponing" trend, but it's still relevant today if you are interested in Extreme Couponing.
You can read all about it on deal blogs and on Facebook–many are tuning in to watch the new series of "Extreme Couponing" on TLC on Wednesday nights. I have heard so many mixed emotions about the show, many more negative than positive. I admit, I missed the first few episodes because we were traveling, but I made sure to DVR them so I could watch them when I came back from my vacation. I have been a little disturbed by what I have seen so far.
Let me start out by saying that I am a huge coupon fan. I use coupons often–but ONLY when I know it is for a product I buy on a regular basis. I get very excited when I see coupons coming through for products that my family uses and you can be sure that I will be one of the first to print them. However, for anyone that is interested in becoming an "Extreme Couponer," beware. There are a few dangers to extreme couponing that the show doesn't really tell you about. You won't be able to understand these feelings until you have tried extreme couponing for yourself. I will be one of the few (or many) that will tell you that I DO NOT recommend extreme couponing.
I will tell you my story. I started this website almost one year ago. As a deal blogger, I saw so many people using coupons to get things cheap or free. I saw extreme stockpiles. I fell in love. I wanted to do that, too. So my adventures with extreme couponing began. I started printing just about EVERY coupon that came through to me. You wouldn't believe some of the coupons I printed. Even now I laugh at myself for even cutting some of the ones that I cut. Many were for products I had never even heard of–products I have never touched and to this day, probably still won't touch–but it was a coupon. If that coupon didn't enter my binder (and yes, I have a great coupon binder), I was doing something wrong.
Then I started making trips to the store to buy multiple papers–trips just for the papers and nothing else. I even subscribed to our local Sunday paper so I could get the coupons. I signed up on company websites to get coupons. Coupons were everywhere. Inserts piled up and if I got behind on my cutting, I felt it. I was anxious about it and it weighed heavily on my shoulders until I cut every single coupon out and filed each one.
Once I had my coupons in my binder and organized, I was ready to go. I found myself with my toddler in tow at Walgreens, CVS, Rite-Aid, Walmart, Target, Food Lion–you name it, SEVERAL times a week. It was slowly becoming an addiction. I felt a rush from it–a high from getting so many things for cheap to free. I felt that I was going to be one of those people that they called an "extreme couponer."
I have to sadly admit that I am not and will not ever be an extreme couponer again. I tried it and it was just down right bad for me–and my wallet. There are several reasons for this.
The first reason is that it basically took over my life for a little while. I was waking up thinking about the coupons that needed to be cut and organized. I was thinking about the shopping trips that HAD to be done so I could get the deals. My stress levels were through the roof. I spent nights cutting coupons when I should have been spending time with my family. According to what I have heard on the show, it takes most extreme couponers about 35-40 hours a week to cut/file/and plan for 1 shopping trip. You can work a full time job and earn money for the time it takes to plan. Money that can be invested. Time that can be spent on more productive activities.
I also realized that I was getting so many great deals on food that I didn't even really like or eat. Why would I put my health on the line for cheap to free products? By the time I "saved money" and had a cart full of my free to cheap items, I barely had any fresh produce in my cart for nutritious meals. I would have to go back to the store to buy my fresh produce if I wanted to feed my family a healthy meal. I found myself throwing out most of my "cheap to free items" because they either expired or I just didn't want to eat them. When is enough enough and when does an extreme couponer "stop buying products" if at all? I have 4 bottles of Dawn Olay Dish Soap that I received for free several months back that I have not even touched yet. Do I really need more? Deals will always be around–so there is no need to keep buying and what some may call, "hoarding" products.
To be an extreme couponer, you do have to have space for everything. I am not a clutter fan. Clutter makes me anxious and makes me feel weighed down. On the show I saw an actual shelf of products next to the bed in the adult's bedroom. In my opinion, a bedroom is a place for intimacy and relaxation. I can't say that I would feel relaxed with a shelf of products next to my bed when I go to sleep at night. I also saw where the couponer was storing items in the kid's playroom–large storage shelving units with very heavy canned goods. That to me is downright dangerous. And, who needs over 20 bottles of soda or bags upon bags of cat treats and diapers when you don't even have a cat or a baby? Am I missing something here? These are just my opinions on a few of the clips that were disturbing to me. If I started letting products take over my life and my home, I would hope that someone would come and tell me that I might have a problem–an addiction or even a hoarding problem.
Please understand that this article is not to bash extreme couponers. This article is to show you the dangers of extreme couponing that you may not be picking up on from the show–from someone that tried it, loves coupons, and loves to be frugal–but admits that it didn't work for me or my family. It's a dangerous game to play, one that could actually cause you to spend more and lose precious time with the ones we love most.
It's ok to continue to shop the way you shop now. If you shop what is on sale and use coupons for items that you only need or use, you will save money. You do not need to be an extreme couponer to save money.