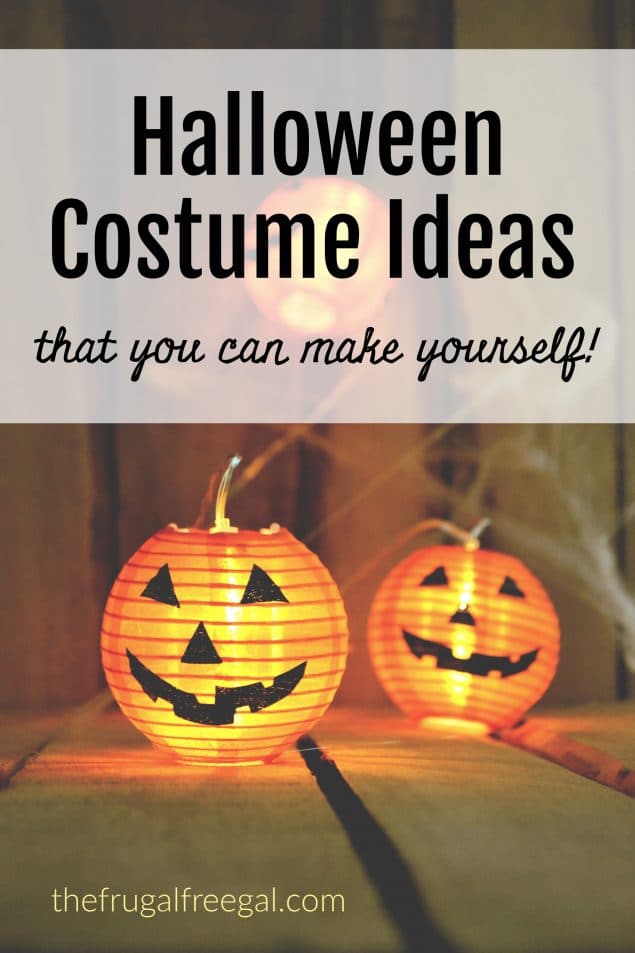 Think you have to spend a fortune to get great looking Halloween costumes
 for your children? If so, think again! Not only can you save big on Halloween costumes by finding them on sale, purchasing them secondhand and handing them down between siblings and cousins, but you can also save a bundle on your children's Halloween costumes by making them yourself. Here are ten fun and frugal Halloween costume ideas that are cute, easy, and most importantly–cheap!
1. Black Cat
For an affordable Halloween costume purr-fect for girls of all ages, a black cat costume
is the way to go. All you need are black leggings, a black long sleeve t-shirt, and black shoes. Accessorize with ears (felt
triangles glued to a black headband
), a tail (stuffed black pantyhose pinned to the pants), and black eyeliner whiskers. Easy, cute and cheap!
2. Ghost
There are few DIY Halloween costumes as popular or as well-known as the classic ghost costume. All you need is a sheet, a black marker, and a pair of scissors! Choose a white sheet
for a classic ghost look or a colored sheet to create one of the Pacman ghosts!
3. Construction Worker
Does your son have a tool belt
and a tool box in his toy chest? If so, pair them with a pair of jeans and a white shirt, and you've got an inexpensive and creative construction worker Halloween costume. The tool box
can even double as his candy basket.
4. Princess
Your daughter loves playing princess on the other 364 days of the year, why make Halloween the exception? If she doesn't have a pretty princess dress already, a flower girl, Easter or other church dress can work just as nicely. Then, all you need is a tiara
and a wand
, which you can always find cheaply at Halloween costume stores, toy stores or the dollar store.
5. Hockey Player
Do your children play any sports, such as hockey, basketball, or football? If so, dress them in their uniforms for Halloween! You already have everything that you need, and they are sure to look great.
Related: 7 Ways to Save Big on Your Kids Halloween Costumes This Year
6. Dancer
Is your daughter taking dance? If so, have her be a dancer for Halloween. You know the costume will be comfortable, look adorable and fit well, and you won't have to spend any extra on it either. Be sure to do her nails and hair so she's all glammed up for the big night.
7. Waitress
Do you have any old waitressing uniforms lying around from your days of working in a restaurant? If so, maybe your children would love to be a waitress for Halloween. All they need are jeans, a plain t-shirt (the messier, the better!), your apron
, and a notepad and pencil. One order of Halloween candy coming right up!
8. Ninja
For your overly energetic young boys, how about a ninja costume
? Dress them in black, tie a belt around their waists, and send them running down the streets with their fake plastic swords
. They are sure to have a ball, and better to have them running down the sidewalk than crashing through your house!
9. Pumpkin
The pumpkin costume
is another fall staple, and it's incredibly easy to make. If you are dressing a baby, simply take a men's large tshirt, place it on the baby, and stuff it with newspapers or rags. Secure the bottom by tying it and draw, glue or attach a felt face to the front. Adorable!
Related: 8 Frighteningly Cheap Homemade Halloween Decorations
10. Spider
Lastly, why not try an eight-legged spider costume
on for size? Dress your children in black, and then use old black panty hose or leggings stuffed with newspaper or plastic bags to create additional legs, which you'll pin to your child's sides. You can even use fishing wire
or string to connect the extra arms to your child's sleeves, so all of the arms move when your child's do. This costume can be as silly or as scary as you and your kids prefer.
Are you making your children's Halloween costumes this year? What are they going to be?