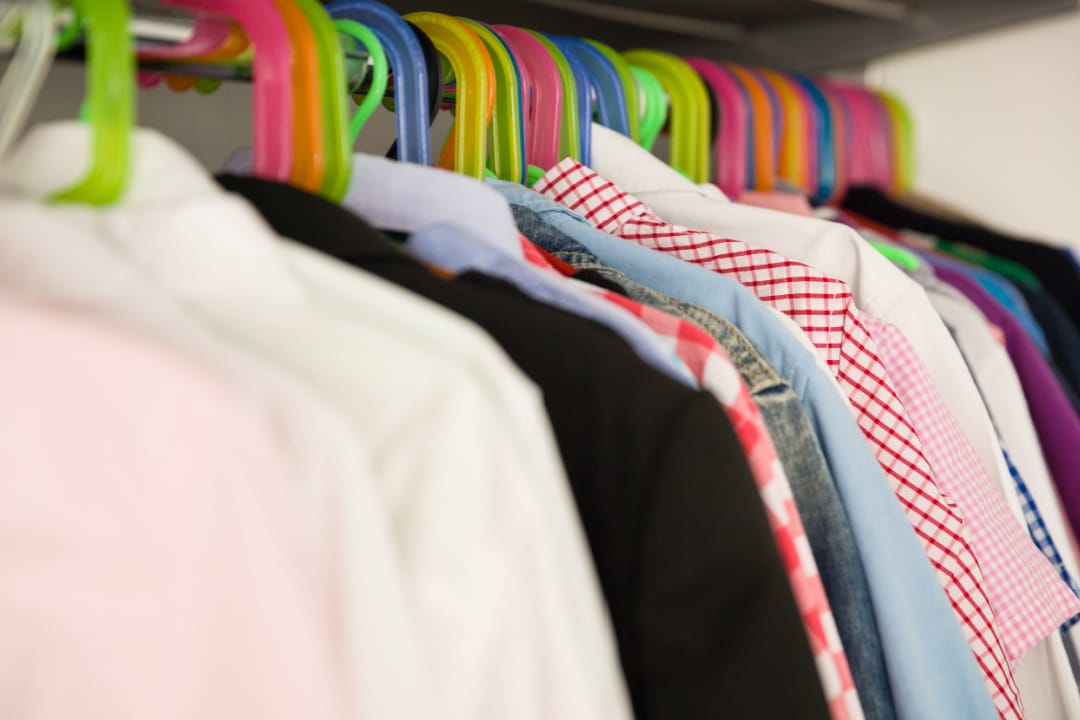 As summer winds down, the time for back-to-school shopping begins to ramp up.
While many parents feel the pinch in their wallets, there's no need to pay top dollar for new clothes when you can find quality second-hand pieces at a fraction of the cost.
Cutting Costs on Back to School Clothes
Not only is this a more frugal option, but it's also a sustainable choice that helps reduce waste. Here are our top picks for the best places to find second-hand back-to-school clothes that won't break the bank.
Thrift Stores
Thrift stores like Goodwill and Salvation Army are treasure troves for second-hand clothing.
With an ever-rotating inventory, you can find items in good condition that your kids will love, from everyday basics to unique vintage pieces.
Some stores even have special sections for children's clothing, making it easier to find what you need.
Plus, shopping at these stores often benefits charitable organizations, so it's a win-win.
Pro Tip: Visit these stores during the week. Inventory tends to turn over quickly, and weekday shoppers have a better chance of snagging the best deals before weekend shoppers arrive.
Consignment Shops
If you're looking for higher-end clothing without the designer price tag, consignment shops are the way to go.
Stores like Once Upon a Child or Kid to Kid specialize in gently used children's clothing and often have stricter criteria for the items they accept, meaning you're likely to find higher-quality items.
Pro Tip: Bring your kids' gently used clothing to consignment stores. They often offer store credit or cash for clothes, meaning you can potentially offset the cost of your shopping spree.
Online Marketplaces
Online marketplaces like eBay, Poshmark, and Mercari have become popular destinations for buying and selling second-hand clothes.
These platforms allow you to search for specific items or brands, making it easy to find what you need.
Pro Tip: Always check the seller's ratings and reviews before buying. It's also a good idea to look at the item's pictures and description carefully to ensure you know what you're getting.
Facebook Marketplace and Local Buy/Sell Groups
Don't underestimate the power of your local community when looking for second-hand clothes. Facebook Marketplace and local buy/sell groups can be excellent resources.
These platforms allow people in your local area to list items they're selling, meaning you can often avoid shipping costs and pick up items in person.
Pro Tip: Be patient and check these platforms regularly. You might not find what you're looking for immediately, but new items are listed every day.
Clothing Swaps
Organizing a clothing swap with friends, family, or within your local community can be a fun and frugal way to refresh your children's wardrobe.
Each participant brings gently used items their kids have outgrown, and everyone gets to 'shop' from the collection.
Pro Tip: Organize clothes by size and type to make the swap easier and more enjoyable.
Online Thrift Stores
Online thrift stores like ThredUp and Swap make finding second-hand clothes a breeze. These platforms offer a vast selection of used clothes from a variety of brands.
You can filter your search by size, brand, price, and more to find exactly what you need.
Pro Tip: Sign up for these websites' newsletters or download their apps. They often send out special offers and discounts that can help you save even more.
Garage Sales
Never underestimate the potential of a good garage sale. Oftentimes, families with children will sell outgrown clothes at a very low price, and with a bit of searching, you can find barely-used, high-quality items.
Pro Tip: Go early for the best selection, and don't be afraid to haggle a bit. It's expected at garage sales, and you can get even better deals.
School Uniform Exchanges
If your children wear uniforms to school, check to see if your school or district has a uniform exchange program.
These programs allow parents to trade in uniforms their children have outgrown for ones that fit.
Pro Tip: Always wash and iron the uniforms you want to trade in. They're more likely to be accepted if they're clean and presentable.
By shopping at these places, you can save a significant amount of money on back-to-school clothes, teach your children about sustainability, and potentially even contribute to your local community or charity.
Remember, shopping for second-hand clothes doesn't mean compromising on style or quality. It's all about the thrill of the hunt and scoring those fantastic finds that make your kids happy and your wallet even happier.
Frequently Asked Questions
Are second-hand clothes safe and clean to use?
Before selling, reputable thrift and consignment stores usually inspect, clean, and sometimes even repair the items they accept.
However, it's always a good idea to wash any second-hand clothes you buy before your child wears them.
Can I find branded clothes in second-hand stores or online platforms?
It is possible to find branded and designer clothes in second-hand stores and on online platforms. Some people sell or donate clothes that are barely worn or sometimes even new with tags. However, availability will always depend on the store's current inventory.
What should I look for when buying second-hand clothes?
Always inspect the clothes thoroughly. Look for stains, tears, missing buttons, broken zippers, or any sign of significant wear and tear. For online purchases, carefully read the product description and check the seller's rating and reviews.
Can I return second-hand clothes if they don't fit or have hidden damages?
Return policies vary. Some physical stores and online platforms allow returns, while others sell items as-is. Always check the store's return policy before making a purchase.
Are there seasonal sales in second-hand stores similar to retail stores?
Many second-hand stores have sales or special discount days. Some also offer a discount if you donate items. Online platforms may have sales or offer promo codes.
How does shopping for second-hand clothes contribute to sustainability?
Buying second-hand reduces demand for new clothing production, which saves resources and reduces the environmental impact associated with manufacturing. It also prevents clothes from ending up in landfills, promoting a circular economy.
How can I get the most out of clothes swaps?
Bring clothes that are clean and in good condition. The better the items you contribute, the more likely others are to bring quality items as well. Also, make sure to organize the clothes in a way that makes it easy for people to browse.
How can I clean and disinfect second-hand clothes effectively?
Washing second-hand clothes in warm water with a good detergent should be enough to clean them. For non-washable items, consider using a fabric disinfectant spray or taking the item to a professional cleaner.