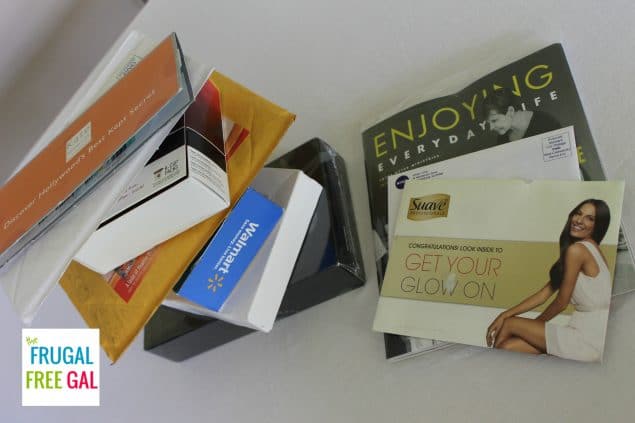 Do you want freebies like k-cups, mouthwash, feminine products, body wash, cat food, coupons for FREE products and much more to arrive in your own mailbox at home? It's simple! Just subscribe to my daily email and you'll get a FREE daily email that will list several great freebies we found around the internet! All you have to do is click on the links in each freebie post, fill out the required forms, etc!
Check the freebie category on my website often, you never know what you'll find! Keep in mind that whatever is posted on my website, I try to sign up for as well, so you'll find us posting only freebies from sources we trust! Not all freebies do arrive, but most do.
How to Get Mailbox Freebies:
Follow me via social media to get updates when freebies are posted:
FREEBIES from the Past: 
Check out my mailbox freebies from the past I paid $0.00 for everything you see pictured. I simply signed up for the freebies as we posted them here and most of them did arrive!
Here's what arrived in my mailbox recently: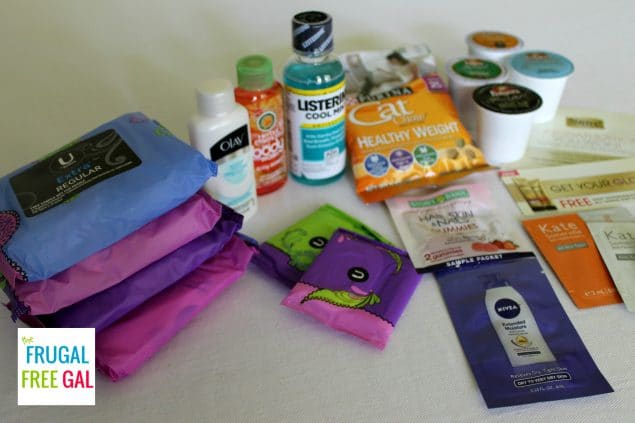 1. Four Folger's K-cups – Black Silk, Lively Colombian Decaffeinated, Caramel Drizzle, and Vanilla Biscotti + $1 off coupon
2. Listerine Cool Mint Antiseptic Mouthwash + $3 off coupon
3. Olay Sensitive Body Wash + P&G coupon book
4. Herbal Essences Body Burst Body Wash
5. Four U by Kotex Pads and two pantiliners + $1 off coupom
6. Coupon for FREE Full Size Suave Professionals Visible Glow Product (up to $8.99 value)
7. Purina Cat Chow Healthy Weight Cat Food (2 oz.) + $1 off coupon
8. Kate Somerville Skin Moisturizer, Face Serum, and Exfoliating Treatment packets + coupon
9. Nature's Bounty Hair, Skin, & Nails Gummies with Biotin (2 gummies) + $1 off coupon
10. Nivea Extended Moisture Body Lotion + $1 off coupon
11. Joyce Meyer Enjoying Everyday Life magazine
Tell me what you received in your mailbox!