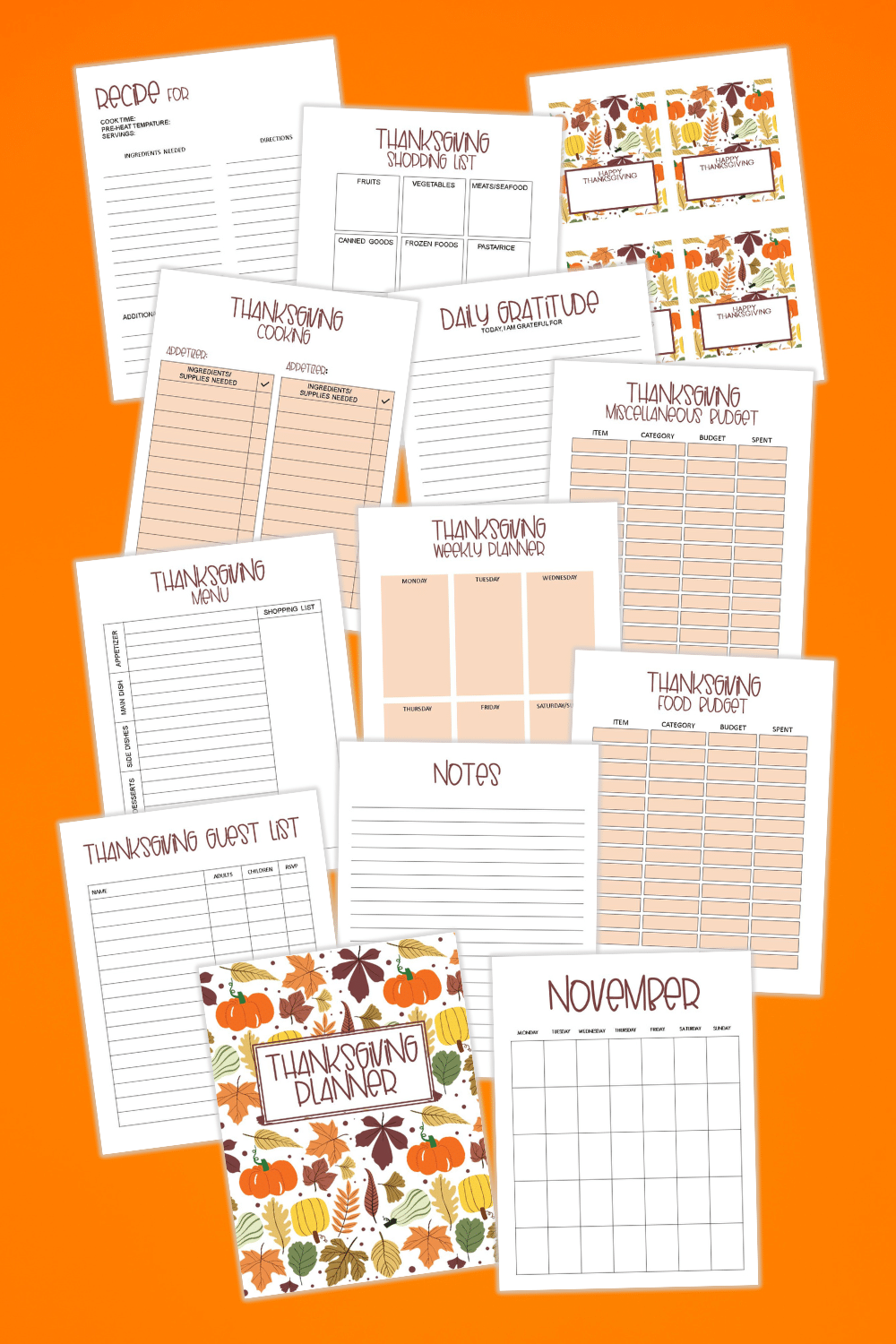 The Ultimate Guide to the Free Printable Thanksgiving Planner: Saving Time and Money this Holiday Season
As we inch closer to that festive time of year, many of us are taking a deep breath, mentally preparing ourselves for the whirlwind of holiday season activities.
And right at the heart of it all is the big event, Turkey Day itself!
Yes, Thanksgiving is on its way, and for anyone celebrating for the first time, or even those who've been at it for years, it's a lot of work to orchestrate the perfect Thanksgiving feast.
Ultimate FREE Christmas Planner Printable
Thankfully, I've discovered an easy-peasy way to help us all remain calm and enjoy this special time: a free printable Thanksgiving planner.
This planner will be your guiding light, ensuring that everything from your side dishes to your main dishes and everything in between is prepared to perfection.
Why Use the Free Printable Thanksgiving Planner?
If last year's Thanksgiving was a tad chaotic or if it's your first year hosting, this is the tool for you.
One of the most important things to keep in mind when planning such a large meal is organization. With a little planning, your Thanksgiving can go from frantic to fantastic.
The free printable Thanksgiving planner isn't just any regular planner. This planner includes:
Thanksgiving Cover Page
2 Undated October Calendars
2 Undated November Calendars
Notes Page
Guest List
Weekly Planner
Budget
Decoration Budget
Food Budget
Miscellaneous Budget
Appetizer Lists
Main Menu Lists
Side Dish Lists
Dessert Lists
Main Menu Page
Menu Page + Shopping List
Shopping List by Categories
Preparation List
Cooking Schedule
Daily Gratitude Page
5 Recipe Pages
2 Wall Art Pages
"Happy Thanksgiving" Banner Pages
Welcome Door Tag Hanger
Table Place Cards
Labels for Leftovers
How to Use Your Thanksgiving Planner to Save Time and Money
One of the first things you should do after printing out your free printable planners is to take a closer look at the November calendar.
Mark the day of Thanksgiving and work backward. Think about when you want to start your Thanksgiving prep, perhaps set a reminder for the weekend before to start thawing that turkey!
Next, turn to your Thanksgiving dinner menu planner. This is a great place to start drafting the entire meal, from side dishes to the big meal main dishes.
Are you trying new recipes this year? Or sticking with family favorite Thanksgiving recipes? List them all out.
The following step is leveraging the Thanksgiving shopping list. Separate items based on their location in the grocery store. This means all the vegetables together, the canned goods in another section, and so on.
This approach can help you save so much time and ensure that you don't miss any items, causing a last-minute run to the store on Thanksgiving morning.
When it's closer to the big day, refer to the cooking list. Organize based on cooking times and the order of preparation. It's always a good idea to start with dishes that can be made ahead of time.
Bonus Tips for a Stress-Free Thanksgiving
Digital Files:
While the printables are designed for personal use, it's a good idea to also keep a digital file saved.
This way, if you ever misplace a page or need to print extra copies of the grocery shopping list or recipe cards, it's easy to do so.
Stay Flexible:
While having a plan is essential, remember that things can change.
Guests might bring additional dishes, someone could have new food allergies, or maybe you want to add different recipes to the mix.
The goal is to have a great time and enjoy much food, laughter, and love.
Wrap Up
Preparing a Thanksgiving dinner, especially if it's your first time, can feel overwhelming.
But remember, the best way to tackle a big event like this is to break it down.
My free Thanksgiving printables, especially the ultimate Thanksgiving planner, can make the difference between feeling overwhelmed and being in control.
So, whether you're hosting for the first time or looking to make this year's celebration less chaotic than the last, this free printable Thanksgiving dinner planner will ensure everything runs smoothly.
From keeping track of different sizes of servings to ensuring you have everything for the dinner table, this planner has you covered.
And when the big day arrives, with a well-organized to-do list and cooking schedule in hand, you can take a moment, look around at the delicious food, the beautifully set Thanksgiving table, and your loved ones gathered, and truly say, "Happy Thanksgiving!"
With these free printable planners, you're not just preparing for a meal; you're crafting memories. So, here's to a Thanksgiving time filled with less stress, more joy, and, of course, so much fun!
Happy Planning, and Happy Thanksgiving! ???
Frequently Asked Questions About the Free Printable Thanksgiving Planner
Is the free printable Thanksgiving planner really free?
Yes, the planner is 100% free for personal use. Simply download the digital file, print it out, and you're all set to make your holiday season much more manageable!
What size paper does it fit?
The planner is designed to fit standard 8.5 x 11-inch paper. However, the digital file can be adjusted to print in different sizes if you prefer.
Can I share this planner with friends and family?
Feel free to share this link to the planner with anyone you think could benefit from a little extra organization this Thanksgiving time. Just remember, it's designed for personal use only and not for commercial resale.
What if I don't need all the pages in the planner?
That's the beauty of free printables! You can choose to print only the pages that are relevant to you. Whether you only want the Thanksgiving dinner checklist, the grocery shopping list, or just the November calendar, it's entirely up to you.
Can I customize the planner?
While the digital file is not directly editable, there's plenty of space provided for additional notes and adjustments. You can always supplement with your annotations or even attach sticky notes for extra details.
How early should I start using the planner?
It's never too early to start planning, especially if this is your first year hosting Thanksgiving. As soon as you know you'll be responsible for the big meal, it's a good idea to start outlining your tasks and to-do list.
Will the planner help with cooking times and schedules?
Yes, there's a dedicated page in the planner that allows you to map out cooking times and a cooking schedule. This ensures that all your delicious food is ready to serve at the same time.
Does the planner include space for tracking food allergies or specific dietary requirements?
The "Additional Notes" section is a great place to jot down any specifics about food allergies or dietary restrictions of your guests.
Is there a version for other holidays?
Currently, this planner focuses on providing the best possible planner for Thanksgiving, but great news! You can also print the free Christmas planner linked at the top of this page.
What do I do if I need to make last-minute changes?
Flexibility is the name of the game. The planner provides a structured way to prepare, but it's always a good idea to have some wiggle room for unexpected changes. You can easily update your planner by crossing out or adding new items.
I hope this FAQ section has cleared up any questions you might have about the free printable Thanksgiving planner.
From planning your entire Thanksgiving meal to ensuring a harmonious cooking schedule, this planner is designed to be a tremendous help.
Now you can enjoy the holiday season with one less thing to worry about.