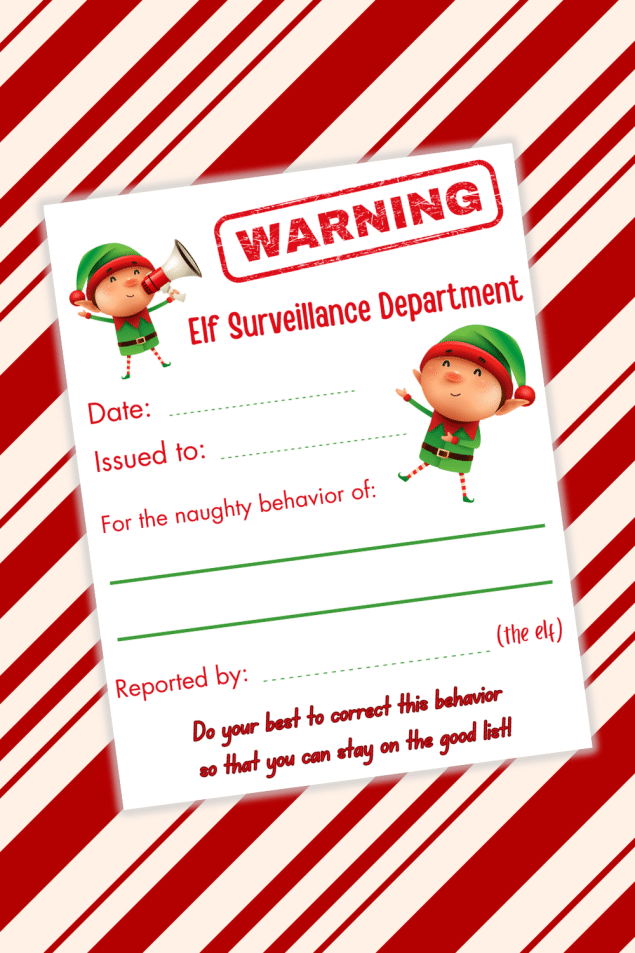 The holiday season, a time of year synonymous with joy, giving, and the magic of the North Pole, brings with it age-old traditions.
Among the favorite Christmas elf practices is the beloved "Elf on the Shelf" tradition.
As we approach the Christmas season, Elf on the Shelf printables, especially the "Elf on the Shelf Official Warning Printable," have become a buzzword among parents.
What is the Elf on the Shelf Official Warning Printable?
Diving into the heart of the Christmas tradition, the "Elf on the Shelf" traditions embodies Santa's little helpers – the scout elves, keeping an eye on children.
These adorable elf antics help Santa Claus determine who deserves to be on Santa's nice list.
However, sometimes, a gentle reminder is needed for those naughty kids who might be straying slightly.
That's where the official warning comes into play.
This free printable elf warning serves as a playful, non-threatening note to children about their behavior.
It's a great way to keep the magic alive, reinforcing the idea that their little elf is always watching and reporting back to the North Pole.
Sprucing Up Your Elf Game with Free Printables
With the holiday season fast approaching, there's no better time to gather some shelf ideas. As you count the days to Christmas Eve, enhance the fun with these printable suggestions:
Shelf Arrival Letter: Kick off December 1st with a welcome letter. It's a fun way to introduce a new elf or welcome back a favorite Christmas elf.
Elf Adoption Certificate: Make the new elf a part of your family, cementing their place in your child's heart.
Printable Calendar: Schedule your elf's arrival, antics, and special moments with a printable checklist and calendar. It's the best time to plan!
Elf Report Cards: Celebrate good deeds and perhaps point out naughty behavior with a fun elf report card.
Goodbye Letter: As Christmas time comes to an end, have your scout elf bid adieu until next year.
Using the Official Warning in the Best Way
While an elf's presence is much fun, there might be days when the little trouble they report is not so rosy. On a bad day, the official warning is a great option to address such behaviors. Here's how:
Personalization: Use blank forms or blank elf letter templates to include the child's name or even the elf's name.
Printable Notes: Add little notes or printable letters, perhaps even in pdf file format, as gentle reminders of good work or where improvements could be made.
Fun Ideas: From naughty list warnings to behavior report cards, keep the messages light and playful. It's a fun way to make the warning engaging.
The Talk: After your child discovers the naughty letter, use it as a conversation starter. Discuss good things and the spirit of the season.
Additional Shelf Notes and Printables
Apart from warnings, the best behavior can be encouraged through other notes:
Good Behavior Letter: Acknowledge their good deeds and tell them they're on track for Santa's nice list.
Naughty List Letter: A cheeky way to hint that they might need to up their game before Christmas Eve.
Last Minute Elf and Quick Elf Ideas: Digital download options for those who might need a prompt solution.
Remember, these are all for personal use. The printable ideas should enhance the shelf tradition and make it even more memorable.
Christmas is not just about Santa and gifts; it's about creating memories. The Elf on the Shelf tradition, with its myriad printable ideas, offers a unique blend of fun, discipline, and anticipation for Christmas.
The Elf on the Shelf Official Warning Printable, among other shelf printables, is an awesome idea to make this time of year magical.
It's a gentle reminder of the constant gaze of Santa's scout elves, ensuring every child aims for their best behavior.
So, this December, make the most of these free printables and let the cute elf stories, from elf's arrival to their goodbye, weave a festive tale in your household.
And remember, every little note, be it a naughty warning or a nice list certificate, adds to the charm of this great Christmas season.
Stay inspired, and may your adorable elf keep the spirit bright and merry!
Happy holidays and merry Christmas!
To get your free printable elf warning letter, enter your email address below. The free printable will be sent to your email address.
Frequently Asked Questions
Where can I find free Elf on the Shelf printables?
There are numerous online resources, websites, and Facebook groups dedicated to the Elf on the Shelf tradition where you can find free printables, from official warnings to arrival letters and report cards. A quick search for "Elf on the Shelf free printables" should yield plenty of results.
Is it okay to use the warning letter multiple times during the holiday season?
While the warning letter is a fun way to encourage good behavior, it's essential to use it sparingly to maintain its effectiveness and to keep the experience positive. Overusing it might dilute the excitement and magic surrounding the Elf's visits.
How can I make the printables more personalized for my child?
Many printables come in fillable PDF format or blank forms, allowing you to include specific details, such as your child's name or the elf's name, to make the experience more personalized and engaging.
Can I create my own Elf on the Shelf printable letters?
Feel free to get creative and design your own printables that cater to your child's interests and your family's holiday traditions. Websites that offer digital design tools, like Canva, are great places to start.
Do all Elf on the Shelf printables come in PDF format?
While many are available in PDF format because of its universal compatibility, some might come in other printable formats like JPEG or PNG. Ensure you have the necessary software to view and print the chosen format.
What other activities can be paired with the Elf on the Shelf warning letter to reinforce good behavior?
Consider pairing the warning letter with other positive reinforcement tools, such as good behavior charts, elf report cards highlighting good deeds, or even little rewards from the elf as a surprise.
I'm new to the Elf on the Shelf tradition; where do I start?
Welcome to this magical journey! Begin with an elf adoption certificate and a shelf arrival letter to introduce the elf to your household. As December progresses, utilize a printable calendar to plan the elf's antics, and if needed, the official warning and other notes to add layers of fun and interaction.
My elf is leaving soon; how do I conclude the season?
Concluding with a heartfelt goodbye letter from the elf is a great idea. It can detail the fun times they had and express excitement about returning next year. You can also include hints about looking forward to seeing the child's name on Santa's nice list.
Are there any fun ideas for older kids who might be outgrowing the tradition?
Consider introducing more complex and fun elf antics that challenge them intellectually or even involve them in setting up scenarios for younger siblings. Digital download printables with puzzles or riddles can be an engaging twist for older kids.
Can I share the printables with friends and family?
Yes, as long as they are for personal use and not for resale or commercial purposes. Sharing the joy of this Christmas tradition is a great way to spread festive cheer!
With these FAQs, you're now better equipped to navigate the delightful world of Elf on the Shelf printables and make the most of this cherished Christmas tradition.