We all know crescent rolls are delicious. But have you ever had them with a apple cinnamon spice filling? If not, you're in for a real treat!
They're perfect for breakfast, brunch, or even dessert! If you're looking for an easy and impressive recipe to impress your friends and family, look no further than these Apple Cinnamon Spice Crescent Rolls.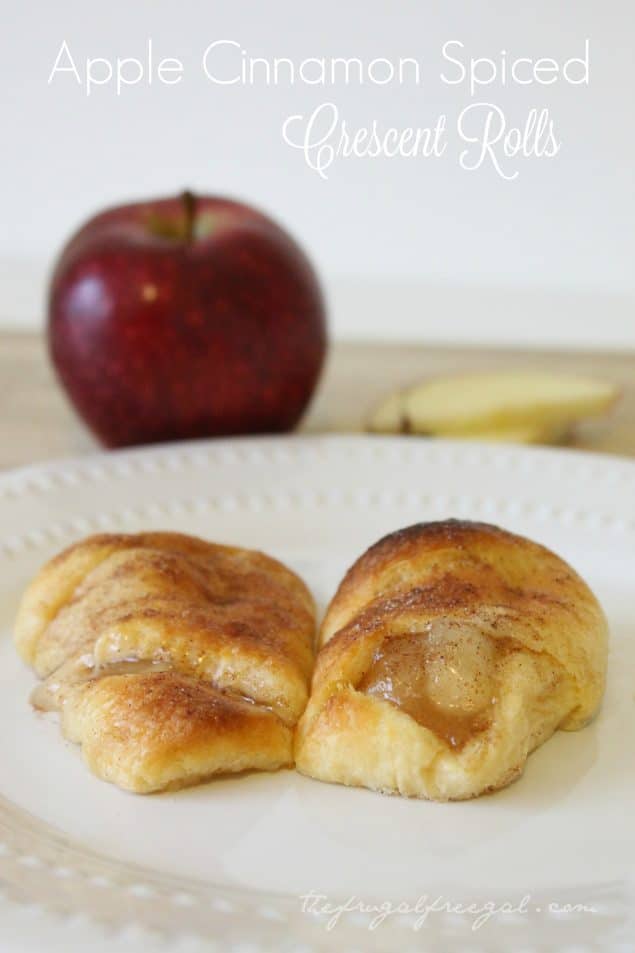 Thanksgiving is approaching soon and I'm already meal planning and stocking up on ingredients for our Thanksgiving meal!
We will be serving the typical turkey along with our favorite Southern Cornbread Dressing, sweet potato casserole, green bean casserole, rolls, and sweet tea.
I'm getting hungry writing this!
I have my menu planned out for our main meal but I'm also preparing for our dessert menu.
FREE Slow Cooker Cake Mix Recipes
We serve a traditional pumpkin pie every year topped with whipped cream, but this year, I wanted to add something else to our Thanksgiving menu.
I'm a huge fan of apple pie. Since we are already serving a pumpkin pie, I went into my kitchen to get creative with something that resembles an apple pie but involved a lot less preparation and work.
I wanted to stick with something easy yet delicious, so I created these Apple Cinnamon Spiced Crescent Rolls to see how they would taste. I wasn't disappointed!
Apple Cinnamon Spice Crescent Rolls
Supplies:
Ingredients:
1 – 8 oz. can of Pillsbury Crescent Rolls
1 – 20 oz. can of apple pie filling
melted butter
cinnamon
sugar
Directions:
Pre-heat oven to 375 degrees.
Unroll Pillsbury Crescent Rolls into triangles on a large baking sheet.
Spoon one spoonful of apple pie filling onto the larger part of the unrolled crescent roll and roll up loosely.
Bake for 9-12 minutes or until golden brown.
Remove from the oven and brush melted butter onto crescent rolls.
Sprinkle cinnamon and sugar on top of each crescent roll.
Serve and enjoy! Makes 8 Apple Cinnamon Spiced Crescent Rolls.