Wait! Before you pay full price for kids books, read this list of 10 Places to Find Cheap Books for Kids!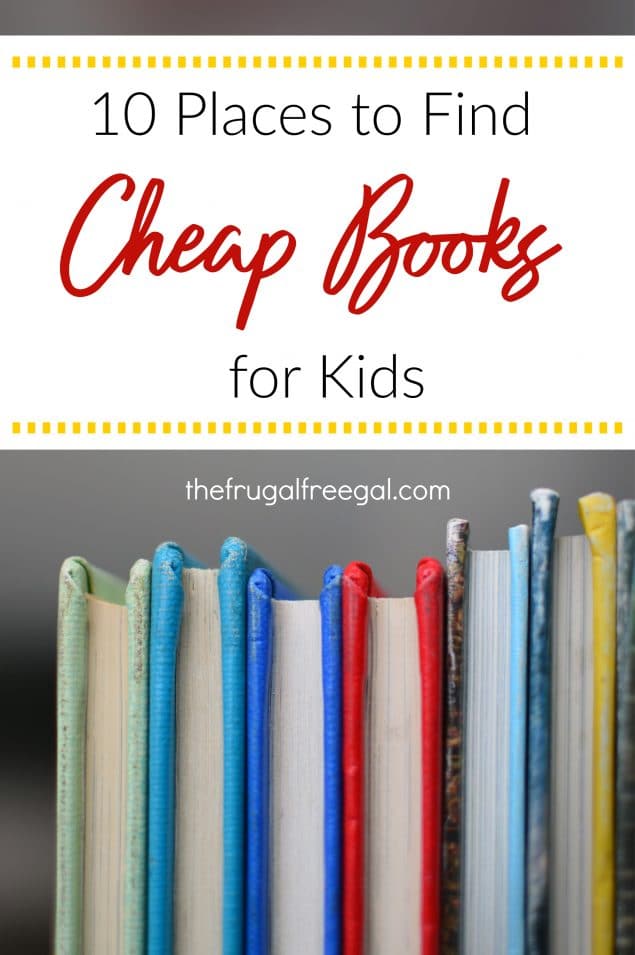 Are you looking for the cheapest place to buy children's books?
Brand new kids books can be expensive. If you walk into any book store and pick a kids book from the shelf to buy, you can expect to pay a lot–sometimes up to $20+ (for one book!) Prices on books for kids are outrageous, so I take the time to find books for almost 75%-100% off at the following places:
10 Places to Find Cheap Books for Kids
FREE Kindle Books for Kids at Amazon
Did you know that Amazon offers FREE Kindle Books to download for Kids? Check this link out daily for new books to download! Prices can change any time, so snag them as soon as they are FREE!
25+ Kids Activity Books and Flash Card Sets Under $3 Each
Garage Sales/Yard Sales
You can find great books for about $0.25-$1.00 at garage/yard sales. I try not to pay more than that, unless the book is just that awesome. You can even try to talk the price down. If you wait until the very end of the sale, you may walk away with free books that the family just wants to get rid of!
Related: 5 Easy Steps for Throwing the Perfect Yard Sale
Neighborhood FREE Book Library or "Book Nooks"
Some neighborhoods offer access to little free libraries placed around on certain streets. Check to see if an area close to you offers one of these great little ways to find books! Most ask that you kindly add a book that you no longer read if you take a book.
Dollar Stores/Dollar Aisles
You can find a few books at stores like Dollar Tree. I recently found a great set of Daniel Tiger and P.J. Masks books for my son! I also buy coloring books there.
Watch my Dollar Tree Hauls on YouTube!
Related: Items Worth Buying at the Dollar Store
Thrift Stores
Depending on the thrift store, you can find books that range anywhere from about $0.50-$1.50. Often times, hardback books are a little more pricey than the softback books. I have found several great books at thrift stores–in new to like-new condition!
Watch my thrift store hauls on YouTube!
Book Swaps with Family and Friends (hand me downs)
This is a good way to get books for free! Trade with family or friends. Some family or friends may even pass down their kids' books to you
Local Consignment Stores
You can find inexpensive books, depending on the store. The prices on books at a consignment store are usually higher than kids books at thrift stores, mainly because someone has consigned the books and are trying to make money off of a sale.
Related: Creating Extra Income Through Consignment
Once Upon a Child
This children's consignment store usually has a great selection of gently used kids books, for $0.50-$1.00 or more. If you have any gently used books you would like to sell, you can sell them to Once Upon a Child, getting cash or store credit (depending on their policy).
Ross Dress for Less/T.J. Maxx
If I need cheap kids' books to give as gifts, this is the place to go. You can find great board books here along with titles from popular authors like Eric Carle or Dr. Seuss. Sometimes they put the books on sale, even when they are already at a low price.
Book Store/Library Sales and Closeouts
Book stores and libraries usually hold book sales when they need to make room for new inventory. You can usually find some great deals on kids' books at these sales and closeouts.
Online Reading
If you are looking for reading online for kids, check out Epic! Get access to 40,000 kids books–Plus get 30 days of FREE reading! Try Epic! Now!
Or, try
ReadingIQ.com
! You can get your first month FREE! You'll have access to over 7,000 books for kids of all reading levels.
Related: More Than Just Books: 8 Library Freebies to Take Advantage of Now
Do you have any other places to add to this list?