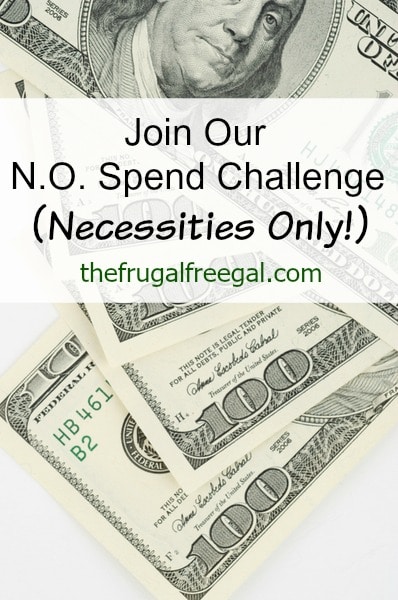 Today is day 10 of the N.O. (Necessities Only) Spend Challenge! I have some pretty exciting news to share with you. Are you ready?! Here it is.
In 10 days, I have not swiped my debit card at all. I haven't spent ANYTHING in 10 days. That's a first for me. For my husband, that's a different story, but I'll explain later.
It hasn't been too challenging, but I've had to train my brain and use a lot of creativity to avoid spending. There were many times I thought I "needed" something and almost hopped in my car to go out and purchase these items, only to realize that they are all "wants" instead of needs.
A few examples include:
Light Bulb
The light bulb in our downstairs bathroom burned out. I almost went out to buy new light bulbs. We have a lamp in our home that we rarely use and I used the light bulb in that lamp instead.
Medical Issue Needing Attention
I have a little bit of an issue with one of my toes right now (from a past surprise pedicure that I was treated to by a friend). I've been self-treating it at home and not getting much relief. I almost went out and purchased first aid supplies but then realized it is best I just get a professional doctor to look at it instead. It doesn't cost anything to see the doctor or get any prescriptions (just one of the perks of being in the military). I called and have an appointment scheduled for tomorrow morning to have it looked at.
Girl Scout Cookies
This is something I did struggle with at first, but I'm happy with the decision we made. We usually support Girl Scouts every year by buying cookies. We had a neighbor come by recently to sell cookies. It kind of caught us off guard and we weren't really available at the time. We kindly declined. This was hard to do at first, but after thinking about it, we don't "need" the cookies. My husband and I are trying to minimize our sugar intake and these cookies won't help our budget or our waistlines. It was hard to pass up Thin Mints and Peanut Butter Patties.
Buffalo Wild Wings
My husband mentioned the idea of going to Buffalo Wild Wings to watch the Texans recently. I reminded him that we were doing the no spend challenge. It was tempting, but for our family of 5, we can't leave BWW without spending about $50+ (before tip!) I do have some BWW gift cards on the way this month. We will get the chance to use those here soon once they arrive. We stayed home and watched the football game on T.V. instead and hubby grilled chicken for us to eat.
Family Movie Night
We plan family movie nights at home. We already had the sweet treats for the movie night, but we do treat my girls to a soda on movie nights. Instead of swiping our cards, we did dig through our change jar and found some change to spend on drinks for the kids. For small purchases, our change jar comes in handy since we don't include the amount of change in our budget.
Making My Own Baby Food
Baby boy will be 6 months old this month! We are introducing him to solids. I've been researching how to make baby food on Pinterest and plan to make most of his baby food. It will save us a lot of money to make his food vs. buying it each month. I've become a pro at making his bananas, but hope to experiment with carrots, green beans, apples, etc. here soon. I'm blending up his food in this blender, the same blender I make all of my smoothie recipes in. It's quick and super easy to make his food! I wish I would have made our own baby food when our girls were little. If you have any great baby food recipes to share of your own, please leave a comment!
Things I Need Soon
There are a few things I do need here soon, including formula, dish soap, and a few groceries. I'm also running out of foundation and eyeliner. I know that to some, those might be "wants," but I'm a stay at home mom and I feel much better when I get dressed first thing every morning. I feel like a million bucks when I'm able to take a shower, get dressed (makeup, clothes, and all) before noon! As for everything else, it's been fun trying to find creative ways to save vs. going out and buying.
My Husband's Update:
My husband's no spend challenge update is a bit different. He is currently the primary grocery shopper in our household. I'm very thankful for him and LOVE that he loves to do the grocery shopping. The only big purchases that have been coming out during this 10 day challenge are for groceries and gas. My husband is traveling some days this month for his job, so gas is a big need for him. He has a plan to buy groceries often while he's out vs. eating at fast food restaurants a lot. He does have an allowance for eating each day but plans to keep it on the low side and be smart about what he buys. On his way to one of his destinations, he did have to stop to eat, but spent less than $4 on a meal. We do have eating out at restaurants budgeted for the month, but I'm trying to see how well we can do. I can't believe we used to spend this much money on food in the past.
FREE Activity!
Today I'm taking the kids to the library around the corner for story time and to check out new books – just one of many free activities to take advantage of during a no spend challenge. I'm taking my 5 year old for a doughnut across the street afterwards and using change from the change jar – no drink though, since we will be taking our refillable water bottles with us. I highly recommend taking your water bottles with you every where you go to avoid spending on drinks out and about!
Next Update:
Baby is starting to wake from his nap, so it's time to wrap this up! Look for a day 15 update. By that time, I will have spent some money on the things I mentioned above plus a few more groceries that we need, but hopefully I'll continue on and refrain from spending on items that we don't need!
Why are we doing the no spend challenge?
My husband and I want to aggressively pay down our last debt – our rental home that's located in another state. We want to save for our future and for our kid's college accounts. We also want to be able to give our money away to those that need it. We can't give as much as we'd like when we have a debt to pay down.
Romans 13:8 – Owe no man any thing, but to love one another: for he that loveth another hath fulfilled the law.

Blessings to you all,
Brittany
How are you doing on this no spend challenge? Do you have any creative ways that you saved so far this month?