Disclosure: This post was sponsored by the Role Mommy Writer's Network, all opinions are my own.
When I became a mom, I never knew that it would be the most rewarding yet most challenging job I would ever have! As a mom, some days are definitely harder than others. On those days I just want to run into my bedroom, shut the door behind me, lock it, and lounge out on my bed in front of the TV with peace and quiet. Well, that never happens here but it does cross my mind often! 😉 I love my girls with all of my heart and they bring a lot of joy and adventure to my life!
As a mom, there are things that I do that I don't want to admit to everyone, but here is one of my many mommy confessions:
I don't drink wine very often, but when I do, my oldest daughter will ask me what I am drinking. I refer to my beverage as "Mommy's juice." She just grins and thinks nothing of it and walks away. Once, my daughter acted as if she was going to take my Mommy Juice at the dinner table and try to drink it. My 18 month old daughter yelled at her, "No, no, no, no, no…!" It was the cutest little thing ever! She knows that no one touches "Mommy's juice!"
In honor of all of you wonderful moms out there, there's a great new comedy that will be airing soon! I am a huge fan of comedies so I will be tuning in and I hope you do, too!  I think this TV show will be a huge hit for moms everywhere!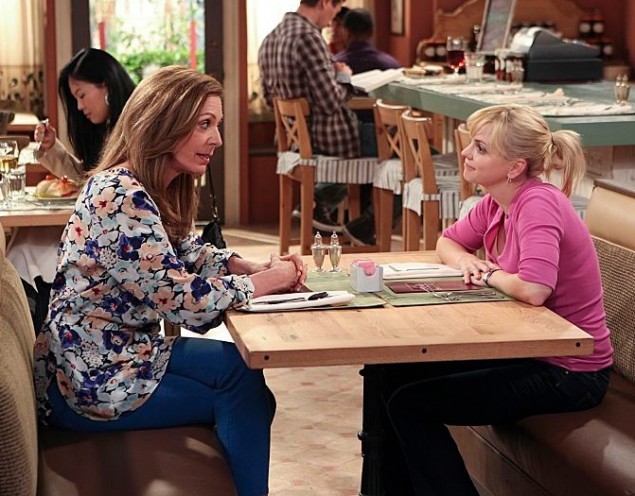 MOM is a comedy from executive producer Chuck Lorre starring Anna Faris as a newly sober single mom raising two children in a world full of temptations and pitfalls, and multiple Emmy Award winner Allison Janney as her critical, estranged mother. Christy is a waitress at a posh Napa Valley establishment who is four months clean and doing her best to be a good mom and overcome a history of questionable choices. Her sobriety is tested when her recovering alcoholic mom Bonnie reappears, chock-full of passive-aggressive insights into Christy's many mistakes. Bonnie joins Christy's already complicated circle of relationships: her handsome, married boss – and lover – Gabriel; the restaurant's hot-tempered chef, Rudy; her pretty, 16-going-on-25-yearold daughter, Violet; her sweet but overly honest son, Roscoe; her irresponsible ex and Roscoe's father, Baxter; and Violet's clueless boyfriend, Luke. Christy tries to remain positive as she pursues her new path in life, but she faces an uphill battle, surrounded by a dubious support system – and a copious amount of dysfunction. Premieres Monday, Sept. 23, 2013, on the CBS Television Network.
CBS's MOM premieres on Monday September 23rd at 9:30 ET/8:30 CT! Be sure to tune in!
Plus, watch TV's Top 10 Most Unconventional MOMS:
TV's Top 10 Most Unconventional Moms from beth Feldman on Vimeo.
Will you be watching CBS's MOM? What is one of your mommy confessions?