Disclosure: Buddy Fruits sent me a gift basket in exchange for a post. All opinions are my own.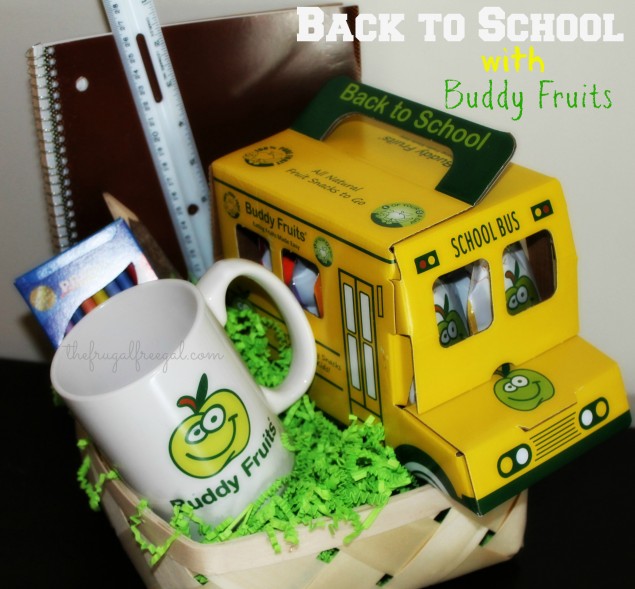 It's back-to-school time and I'm still a bit in denial that the summer is over! This summer flew by way too fast for me, but as fall approaches, there's a lot to look forward to! Every morning I struggle with putting together a healthy lunch for my girls. I run out of ideas often and don't want them to get bored with me sending the same food over and over, so that's why I'm happy to be able to add Buddy Fruits snacks to their lunches each week!
My girls love Buddy Fruits and that makes Mommy happy! I don't always have fresh fruit in the house and that's why I rely on Buddy Fruits snacks because they offer the perfect alternative! Buddy Fruits is the perfect healthy and easy snack to pack in a lunchbox or eat on-the-go. I love the assortment of flavors that Buddy Fruits has to offer! I also love the little school bus that the Buddy snacks come in. What a cute idea for back-to-school! We saved our box and the girls actually like to use it for pretend play with some of their dolls.
Right now, you can go to the Buddy Fruits website and enter to win a year supply of Buddy Fruits!
I entered to win!
Here are a few of the rules.
- Starts 08/15/13 and ends 09/30/13.
- There will be two (2) weekly winners: one (1) winner on Tuesday and one (1) winner on Friday.
- Each winner will receive a year supply of Buddy Fruits products, including mixed flavors of Buddy Fruits Pure Blended Fruit, Buddy Fruits Smoothie and Buddy Fruits Pure Jiggle Gel. One year's supply is 365 pouches of Buddy Fruits (One pouch – 3.2oz of product in each pouch).
- The actual retail value ("ARV") of each prize is $365 each.
You can also enter to win a Buddy Fruits gift basket! To enter, use the Rafflecopter form below. Giveaway ends 9/17/2013 at 12:00 am. No purchase necessary to enter to win. Must be 18+ and live in the US to enter. While you are here, be sure to follow Buddy Fruits on Facebook, Twitter, and Pinterest so that you can receive their updates!