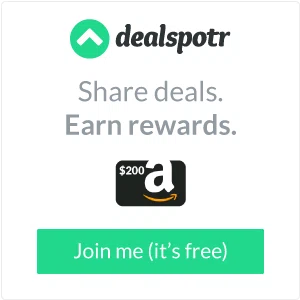 Do you love deals and earning rewards? If you are visiting my website right now, chances are, you love great deals. I try to find great deals for my readers during the day for you, but the truth is, there are just TOO many out there to share with you here. That's why I wanted to share a popular deal website with you that you'll be interested in if you love finding a variety of great deals at a variety of popular retailers AND if you like to earn rewards, too!
Recently, I joined DealSpotr as an official Influencer. DealSpotr is a great place to find a large amount of deals to help you save BIG.
Dealspotr is a community for people who love deals, promo codes, and discounts. Join us and earn rewards for sharing, liking, and discussing deals.
When you join DealSpotr, you'll gain access to the best deals out there to your favorite retailers. Build your own feed and customize it to only see deals from your favorite stores. Interested in a particular category? No problem! You can find deals according to your interests such as Electronics & Tech, Fitness and Sports, Fashion, Babies & Kids, plus lots more.
If you are like me, before I buy anything online, I do my research to find the best deal out there. I search for valid coupon codes that will make the deal even sweeter! With DealSpotr, you can find coupon codes to your favorite stores to help sweeten the deal!
Even better, you can also submit coupons, deals and discounts that you discover that work in-store and online to earn great rewards. Keep reading to find out how you can earn points when you join DealSpotr!
How to Earn Points:
With DealSpotr, you can earn points by posting and spotting deals, as well as having one of your deals go hot, commenting on other people's deals, referring new members to the community, when other members use the deal you posted, flagging invalid deals and more. Keep track of the points you've earned in your dashboard. For every 10,000 points you earn, you can redeem a $10 gift card to Amazon. Redeem the gift card as soon as you earn 10,000 points, or save up your points and redeem for a higher amount later on. Once you submit you points for the gift card, it usually only takes a few days for your account to be reviewed and the gift card to show up in your email! Here's a quick peek into my dashboard to show you how it works:
Join Now:
Simply join DealSpotr to access these deals and start saving. You'll get an extra 5,000 points when you join if you sign up with this link (my referral link!) You'll find me over at DealSpotr throughout the day posting deals because I love to earn rewards, too. In fact, I've already submitted for my first reward for posting and sharing deals — a $10 Amazon Gift Card! My goal is to earn enough rewards to buy Christmas presents this year!
If you are a blogger, become a DealSpotr Influencer. You can use my access codes below to join after going through this link.
ejrc4HiD
tNu4M62w
gLsfX6GP
Md2PGoNi
One of my favorite features on DealSpotr is the option to subscribe to your favorite deal enthusiasts and interact with their deal posts. I've already subscribed to several "DealSpotr's" through the platform so that I can follow their feed and see the great deals they post. Sometimes I even comment on their deals! Many of these community members post deals that become "hot" or "on fire," another feature I love about DealSpotr. My goal is to make it on the "Top Deal Posters" chart one day!
Get started today! Join DealSpotr now and start earning!