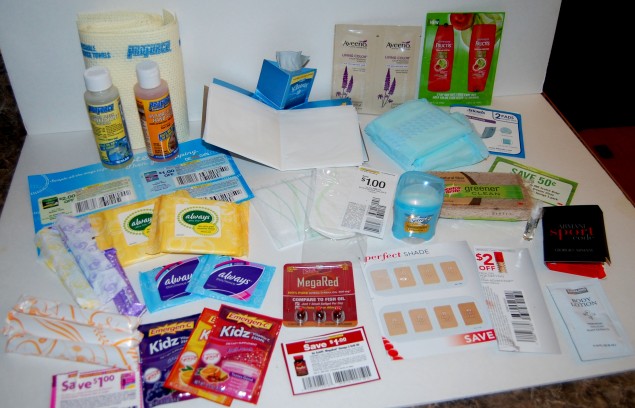 Here are the latest freebies and coupons that arrived in my mailbox!
1. ProForce Lemon Fresh Disinfectant Cleaner and Antibacterial Handsoap with Reusable Towel
2. Scotch-Brite Greener Clean Sponge with $0.50 off coupon
3. Garnier Fructis Color Shield Shampoo and Conditioner
4. Aveeno Living Color Shampoo and Conditioner
5. Kirkland Signature Body Lotion
6. Armani Sport Code Fragrance
7. Revlon Age Defying Makeup with $2 off coupon
8. Kleenex Cool Touch Tissues
9. Schiff MegaRed Omega-3 Krill Oil Pack with $1 off coupon
10. Emergen-C Kidz Vitamin C Drink Packets: Grape, Fruit Punch, Orange
11. Attends Pads (2)
12. Kotex Pad & Pantiliner and a $1 off coupon
13. Being Girl Kit with Secret Scent Expressions Deodorant, 3 Tampons, 4 pads, and 4 money saving coupons
14. Playtex Gentle Glide Tampons (3)
Did you receive any of the freebies above? What other freebies did you get?