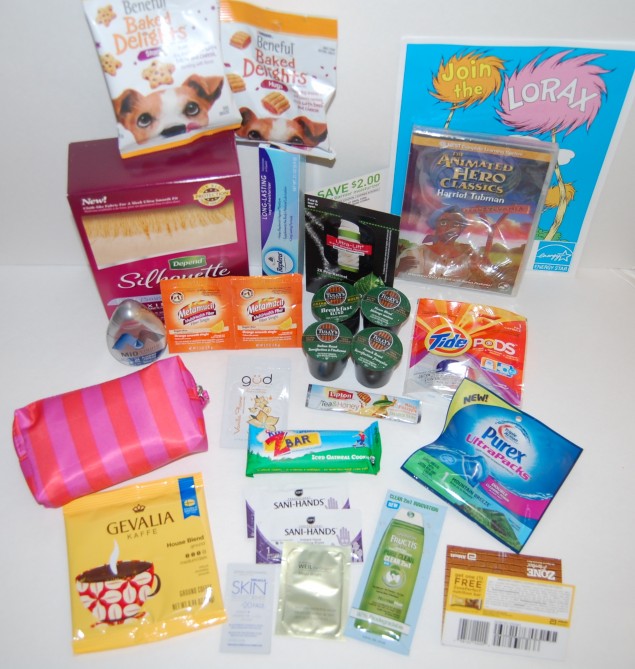 It has been a while since I've posted mailbox freebies! There's a reason for that! We were out of state for two months so when I came back, I had some lovely freebies waiting for me when I returned! I signed up for them while we were gone and most of them came. Here are my freebies:
1. Clif Kid Z Bar – Iced Oatmeal Cookie Flavor
2. Tully's Coffee 4 Pack (House Blend, Breakfast Blend, French Roast, Italian Roast) + $1 off coupon
3. Target Beauty Bag – See how you can score another one soon.
4. Full Size Mio Liquid – Blueberry Lemonade Flavor
5. Gevalia Coffee House Blend + $1.00 off coupon
6. Purex UltraPacks + $0.50 off coupon
7. Tide Pods
8. Lipton Tea & Honey Packet – Mango Pineapple Flavor + $0.50 off coupon
9. (4) Metamucil Fiber Packets + $2 off coupon
10. (2 Pkgs.) of Beneful Baked Delights Dog Snacks (I don't have a dog, but my neighbors do!)
11. Garnier Fructis Pure Clean Shampoo + Conditioner (Great for traveling or for the gym bag!)
12. (2) Sani-Hands Hand Wipes (Great for the purse or diaper bag!) + $1 off coupon
13. Replens Long Lasting Moisturizer for Ladies 😉
14. Gud Natural Body Lotion (Great for purse or gym bag!) + $1 off coupon
15. Dr. Andrew Weil for Origins Mega-Bright Correcting Serum
16. Garnier Ultra Lift Wrinkle Reducer
17. Free DVD "The Animated Hero Classics – Harriet Tubman" (Great for teachers!)
18. Depend Silhouette For Women 2 count + $2 off coupon
19. Lorax Activity Book
20. Hunt Brothers Pizza T-Shirt + Thank you card (Not Pictured)
21. David Yurman Fragrance Sample
22. Similac Simply Smart Bottle
23. Miracle Skin Transformer
24. Coupon for Free Meow Mix + $1 off coupon
25. Coupon for Free ZonePerfect Nutrition Bar
Did you receive any of these freebies, too? Follow my website to sign up for freebies!