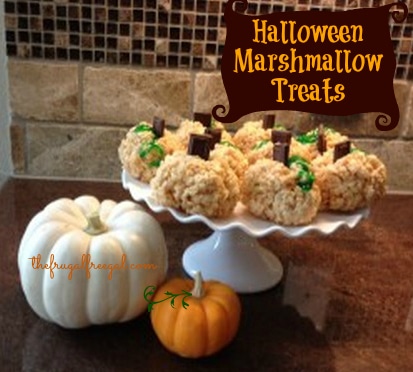 Craving a sweet treat?  Looking for a fun and festive dessert to make with your kids?   These ooey, gooey pumpkin shaped treats are just the thing!
Halloween Marshmallow Treats
3 Tb. butter
1 package (10 oz) marshmallows
Orange food coloring
6 cups rice crisp cereal
1 Hershey's chocolate bar (broken into 12 pieces)
Green gel icing
Cooking spray
Directions:
In a large microwave safe bowl
, heat butter and marshmallows on high for 3 minutes, stirring after 2 minutes.  Continue stirring until smooth.  Add rice crisp cereal and orange food coloring and stir until incorporated and desired color is achieved.
Using a ½ cup measuring cup
 coated with cooking spray, divide the cereal mixture into 12 portions.  Using buttered hands, shape each portion into a round pumpkin shape.  While still soft, stick a piece of chocolate in the top of each pumpkin to serve as the stem (use a butter knife to cut a slot if necessary).  Use the green icing
 to put a vine on each pumpkin.  Serve the same day.
Inspired by Kellogg's Rice Krispies Surprise Pumpkin Treats.