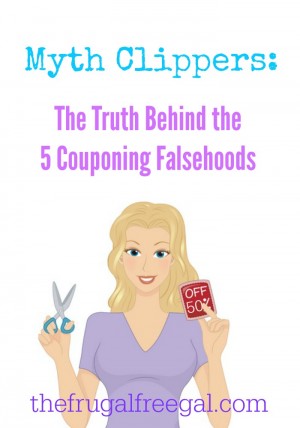 If you're a couponer, you've probably heard all sorts of so-called "facts" about the fine art of clipping. While some of those facts are true (that's why they're called "facts"), many others are not. In today's blog entry, we present four of those couponing myths, and reveal the truth behind each of them.
MYTH #1: You shouldn't waste your time on low-value coupons – Just because a coupon is "small" – like those 25 cent ones – that doesn't mean it's not something you should clip. If it's an item you need, you should definitely clip it, regardless of how small it is. And if your store doubles coupons, that 25 cent coupon just became a 50 cent coupon. It's suddenly not so small, is it?
MYTH #2: I can't be a good couponer because I don't have enough time – Some people spend 10 hours a week clipping coupons. Some people spend 30 minutes a week clipping coupons. One spends a lot of time clipping, and the other spends a much more reasonable amount of time. What do both clippers have in common? They both save money. The lesson? Anyone can be a "good couponer," and you don't have to turn your spare bedroom into a home office to do it.
MYTH #3 – I make a decent salary, so I don't need to coupon – This myth – also known as "only poor people clip coupons" – is just plain false, false, false. Yes, people without much money to spare might definitely be interested in saving a few bucks thanks to some coupons, but some of the best couponers I know are people who make a heckuva lot more money than I do. In fact, a Neilson Company survey has shown that people who make more than $100,000 per year were 25 percent more likely to clip coupons than people who made less than $25,000.
MYTH #4 – Couponers buy things they don't need and are hoarders – This is actually two myths in one, both of which can be credited to TV shows like "Extreme Couponers." Let's tackle the first part: "Couponers buy things they don't need." The truth is, SOME couponers buy things they don't need, usually so they can save a few bucks. That's not a good couponing strategy. As for the hoarding part, there's a fine line between hoarding and stockpiling. A good couponer knows how to stockpile. Be a good couponer.
If you are wanting to start clipping coupons, head over to find coupons to print!