Disclosure: I received a free sample box at no cost in exchange for a post about PINCHme.com. All opinions are my own.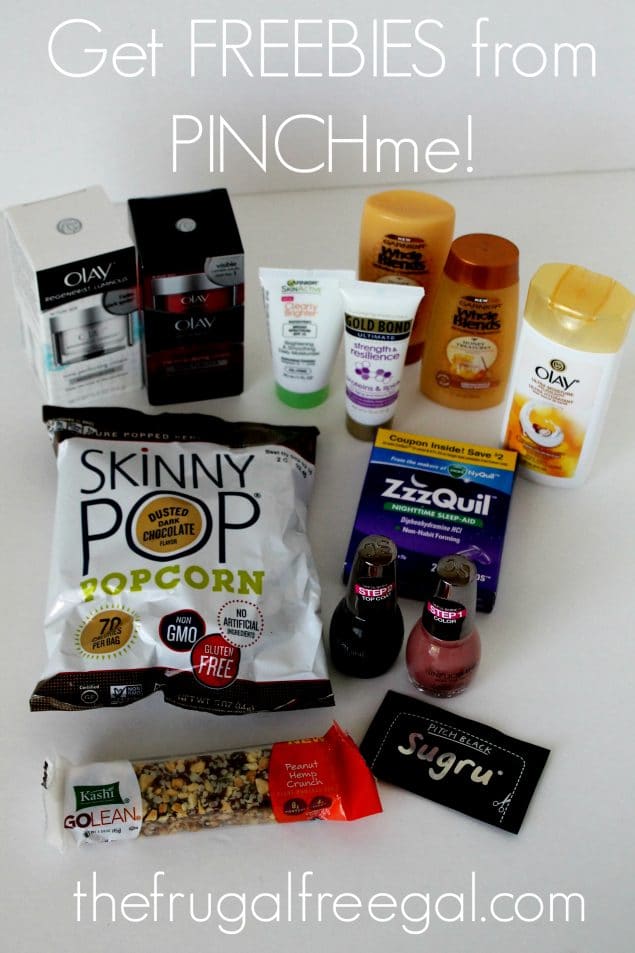 Do you love to receive freebies in your mailbox? I do! In fact, that's how this website started. Several years ago, I fell in love with finding 100% free products online to try and test out. Receiving freebies was fun for me and I wanted to share freebies with others. I've been posting freebies on this website now since 2008! If you are interested in receiving freebies, simply follow along here daily and check my freebies category! You can also subscribe to get freebies in your inbox to request! There are so many freebies available from great brands including K-cups, lotions, pet food, beauty products, food, beverages, feminine products, calendars, and more!
Recently, I stumbled onto PINCHme! PINCHme is a monthly subscription site that lets you try products from leading brands, completely for FREE — it's 100% FREE to join and there's no credit card required! Plus, get FREE shipping on all box orders!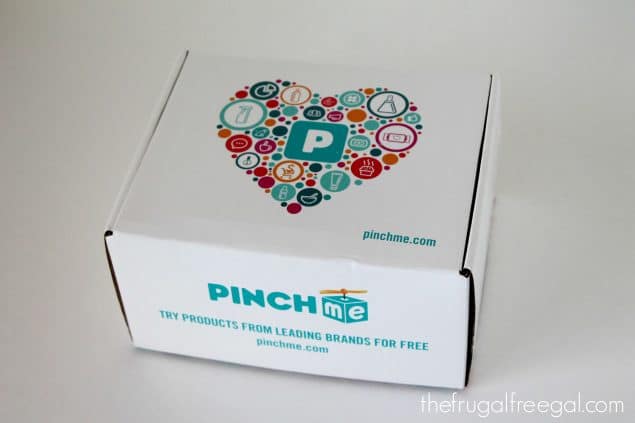 **Mark Your Calendar!**
This month's Sample Tuesday at PINCHme.com is on April 12th at 12 Noon EST! Read more below.
Every month, new products are released on PINCHme for members to claim. Products include items like grocery, baby, pet, beauty, home, and personal care. Be sure to visit PINCHme.com for this month's Sample Tuesday on April 12th at 12 Noon EST to claim new free samples! Once you receive your box and try your products, all PINCHme asks is for your feedback on the products. Join over 2 Million+ happy PINCHers nationwide!
Here's How PINCHme Works:
1. Sign up for free now on PINCHme.com
2. Complete your member profile
3. Order free samples relevant to you
4. Give your feedback!
I received a sample box recently to share with you! Check out the great contents in my PINCHme box!
This is just an example of products that you can receive from PINCHme when you sign up!
Example of Samples included in my PINCHme Box:
1. Olay Ultra Moisture with Shea Butter Body Wash
2. Olay Regenerist Advanced Anti-aging Micro-Sculpting Cream Moisturizer
3. Olay Regenerist Luminous Tone Perfecting Cream Moisturizer
4. Gold Bond Ultimate Skin Therapy Cream
5. Garnier Honey Treasures Whole Blends Repairing Shampoo
6. Garnier Honey Treasures Whole Blends Repairing Conditioner
7. Garnier SkinActive Clearly Brighter Sunscreen
8. Sinful Shine with Gel Tech Step 1 Nail Polish
9. Sinful Shine Step 2 with Top Coat Nail Polish
10. ZZZQuil Nighttime Sleep-Aid
11. Pitch Black Sugru Glue
12. Skinny Pop Popcorn – Dusted Dark Chocolate Flavor
13. Kashi GoLean Peanut Hemp Crunch Bar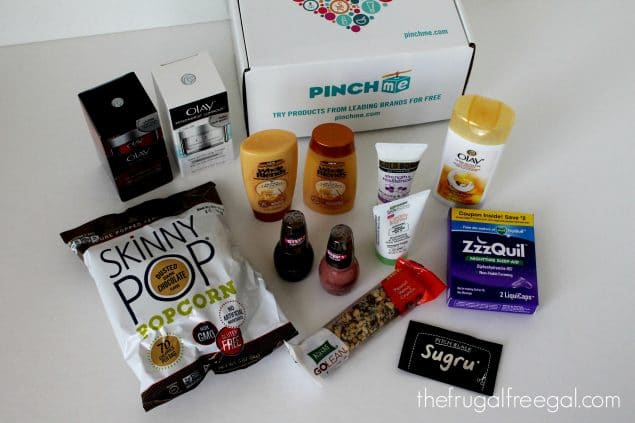 Fun right? Yes, it is. Receiving freebies is so much fun, and I'm happy to know that YOU can request these freebies each month, totally FREE! Don't forget — sign up for your freebies at PINCHme.com on April 12th at 12 Noon EST! Bookmark the website so that you'll be ready that day!
Is this for real? You bet it is! I've actually signed up for previous sample boxes and they do arrive! 
Follow PINCHme Facebook, Twitter, Instagram, YouTube, and Pinterest to get updates when freebies are released!
One lucky reader will win a PINCHme box of samples! To enter, use the Rafflecopter form below. Giveaway ends 4/21.