This article is sponsored by Publishers Clearing House.
Have you ever taken time to think about what you would do if you won a million dollars + $5,000 a week for life? Stop what you are doing for a moment and close your eyes. Think about what you would do with that huge amount of money if you won. What would you do with it? Would you travel? Pay off debt? Donate money to your favorite charity? Buy a dream house or a beach house? Save for college? How would this large amount of money change your life?
Publisher's Clearing House has a $1 Million plus $5,000 Every Week For Life Mega Prize sweepstakes going on where you can enter to win!
I took some time to think about this recently. A million dollars + $5,000 a week for life would definitely be life changing, but I would want to be very careful with how I choose to spend the money. I know that I've heard stories where some people actually won a large amount of money, only to waste it away and find themselves in debt and in a terrible situation. I would also want to make sure I would sit down with my husband to make sure we are on the same page as to what we would want to do with our earnings.
Some may call this a "boring plan" but it's my plan–and I think it's a smart plan! Here's what I think we would do if we won the $1 Million + $5,000 a Week for Life Mega Prize from Publisher's Clearning House:
1. Tithe. We would give back 10% of our earnings to the rightful owner, God. He's the one that blessed us with the money in the first place, so it would be my responsibility as a good steward to give back what is rightfully His. We would do this through contributions to our church.
2. Share our earnings. $1 million + $5,000 a week for life is a lot of money. In fact, it's way too much to keep for ourselves. We'd give money to our family and give to certain charitable organizations.
3. Save and invest. We would invest our money by doing the following:
Maximize our Roth IRAs every year
Maximize and contribute to a thrift savings plan every year
Buy I-Bonds regularly
Contribute to our children's 529 plans
Save for future events: cars for the kids, weddings, college expenses
We would also make sure we would have our financial adviser help give us other ideas on other ways to invest and place our eggs in other baskets so that our money can grow.
4. Pay off our car and rental home. 
5. Have fun! We would use whatever is left to save and use for family vacations, trips to visit family back home in Texas, and other needs or wants that may come across our way!
Well, now that you've read my story and have had time to think about winning the $1 Million plus $5,000 Every Week For Life Mega Prize, be sure to enter to win!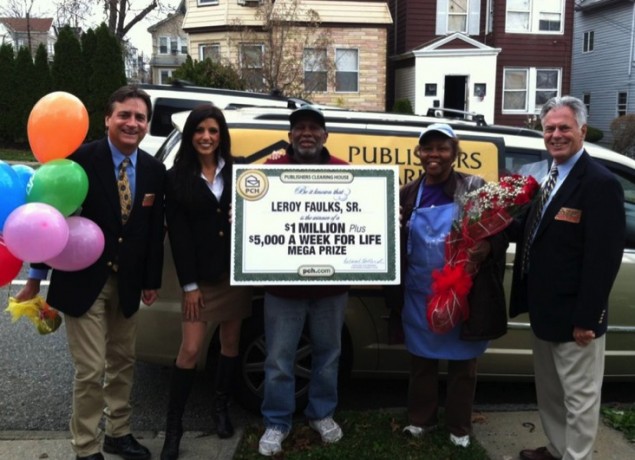 Thanks to Publishers Clearing House for sponsoring today's discussion!