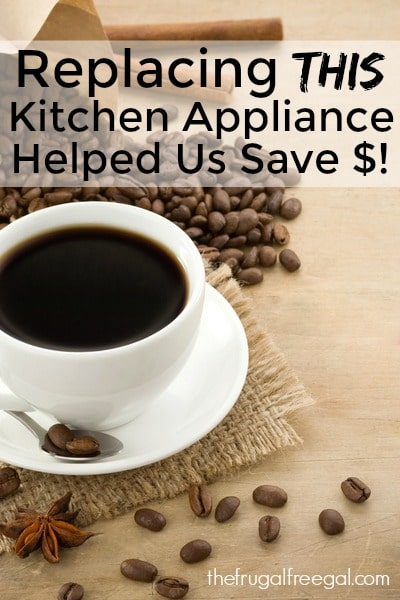 A couple of years ago, I joined a program with a company that allowed me to try new coffee pods in exchange for reviews. I LOVED this program and I loved that I would receive two large boxes of coffee pods to try for free at my doorstep each month. After trying the coffee pods, I would post a review of the coffee pods or even post coffee deals for the company. The program went on for some time, but eventually, the chance to review the coffee pods came to an end. I had to start buying the coffee pods myself, and the vendor that had been supplying me with coffee no longer needed my reviews.
It was hard for me to consider the cost of coffee pods when I wasn't paying for them. But, once I started handing over money at the register for my own coffee pods, it was tough to do. Coffee pods are EXPENSIVE! Of course there are "deals" on coffee pods, but the deals in my opinion still aren't worth the money! The cost of coffee pods took a toll on our grocery budget and something had to change. A box of 12 coffee pods can cost anywhere from about $6-$8 a box. With two coffee drinkers in the house drinking at least 1-2 cups a day, that's about 4 coffee pods total each day. One box would last about 3 days! When family visited, we would easily go through one box in one day. It just didn't make sense anymore to keep buying these expensive little plastic pods of coffee. Because we wanted to save money, we decided that the 1-cup brewing machine and coffee pods needed to go.
The first thought of replacing our 1-cup brewing machine did bring some anxiety. We did love the convenience of a 1-cup machine, but it just wasn't worth it anymore to keep the machine for our coffee drinking lifestyle. We donated our 1-cup brewing machine and made the decision to switch back to a regular coffee maker. When I went shopping for our new traditional style coffee maker, I had a few things in mind for what I wanted. I did want a large 12 cup coffee maker that would come in handy when family or friends would visit. I also wanted a machine with an automatic shut off. I don't want to run the risk of leaving the house and leaving the coffee maker on. Last, the cost was important.
I chose this coffee maker at Wal-Mart because this coffee maker had everything I was looking for AND it was under $25! We also buy the large containers of coffee (usually the Wal-mart store brand seen here) and these last for about a month, averaging about $8-$9 a container. We buy a large package of coffee filters for right around $1.
Additionally, we love to drink iced tea during the day, and we had been using the 1-cup brewing machine to make iced tea as well.  However, once we started using the traditional coffee maker, we found that we could use it for making a big pitcher of iced tea that we could enjoy for several days. I place 4 family size tea bags in the coffee pot and brew 12 cups of water. I allow the tea bags to brew in the hot water for 5 minutes. I then pour the tea into a large pitcher and add water to create a full pitcher of tea to enjoy!
We've had this coffee maker now for several months and we have been very pleased with our decision to switch over from the 1-cup brewing machine to a regular coffee maker because we are saving hundreds of dollars each month. If you are a coffee drinker and are trying to stick to a budget and save more money this year, consider replacing your 1-cup brewing machine with a traditional coffee maker. You'll be able to have extra money to pay off your debts, to save for your future, or to give to others.
How do you save money on coffee?