I went to the thrift store this week. I usually make a thrift store run about once a week if I can get there.
I do have a list in mind of things I want or need and try to stick to the list so that I don't bring home a lot of junk. I found a few great items recently including some gently used jeans for my daughter for $2.59 that would have been around $14-$16 in store. I'm also on the lookout for Little Critter books by Mercer Mayer and things like Barbies in great shape (clothes still on). I've been on the lookout for a piece of furniture for our living room but haven't had any luck with that.
However, I did find something recently that has changed the way I do laundry! I call it my "Sanity Saver" thrift store find of the week! I've already kept my laundry up for 3 days since I put it together!
I am not sure about you, but I never liked taking clothes out of the dryer and throwing them on the couch to fold them. I never had any space in my laundry room to fold or hang any clothes so laundry to me was always a dreaded chore…until now.
My brand new in-the-box double rod closet that I found at the thrift store for $15 has given me a reason to want to do laundry. I can take clothes straight out of the dryer and hang them and fold them into categories. Putting them away is easy now too because they are all organized and ready to go. I keep my husbands clothes hanging up on the top rod to the left, my clothes on the top rod to the right, and my daughter's clothes on the bottom rod. My daughters have a basket for their clean clothes, and we have smaller baskets for socks, dish towels, etc. Towels will be placed on top.
Here are a few pictures below. When I came home, I searched online to see how much this would be full price. I saw one of these double rod closets at Target for $79.99 so I got a great deal!
Then I put it together, no tools required. It took me about 30 minutes to put it up and I am already in love with it.
I find myself actually doing laundry now just so I can use it! Hey, whatever works right?
New in Box for $15 (Reg. $79.99 at Target)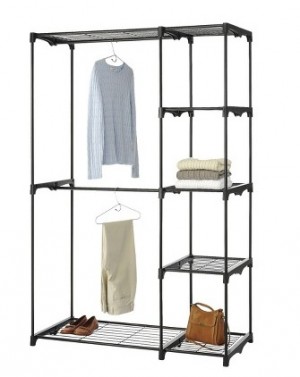 Here it is set up in my laundry room. It sits directly in front of the dryer so all I have to do is fold or hang the clothes up by category and then put them away! Note: This may or may not work for you depending on how your laundry room is set up. In our previous home, this would not work for me because our washer and dryer was located in a small closet!