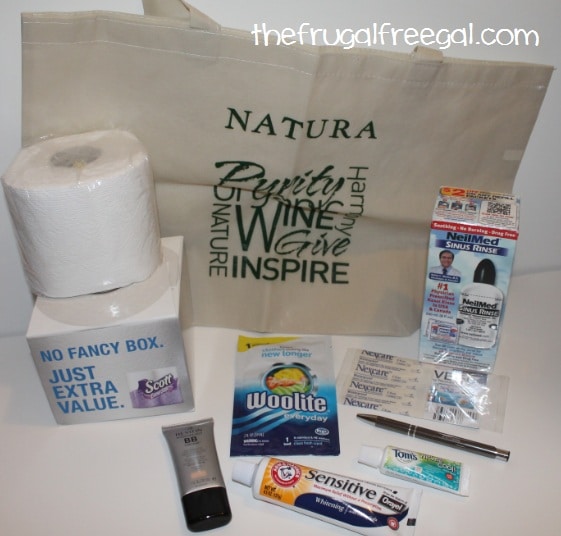 If you have been following my website, you know that we post a lot of great freebies that you can sign up for! I sign up for the majority of freebies posted on my website (if I don't sign up it's simply because I just didn't have time or missed it because it expired.) I love to get freebies in the mail and love to show you what you can get, too–if you follow my website.
Here are the latest mailbox freebies:
Natura Tote Bag (I love using these when we travel!)
Scott Extra Soft Toilet Paper (Yes, an entire roll of toilet paper was delivered to my mailbox!)
NeilMed Sinus Rinse (I've been having issues with my sinuses this year so this will come in handy!)
Woolite Laundry Detergent (I love trying new detergents!)
Tom's of Maine Wicked Cool Wild Mint Toothepaste (Travel Size–we love taking these with us when we travel for the girls)
Nexcare Waterproof Bandages (these usually go in my purse to have on hand in case my girls get a little cut when we are out and about!)
Personalized Pen from Pens.com with my website name and URL (It's a nice pen!)
Full Size Arm & Hammer Sensitive Whitening Toothpaste from Smiley360 (My teeth are actually sensitive in the back from previous dental work, so this will come in handy!)
Revlon PhotoReady BB Cream from Klout. (Earn Klout to receive great freebies like this!)
I've already started received more freebies that I will share with you here soon on my next "Mailbox Freebies" post, so follow along and make sure you sign up for these freebies as they are released!
To get updates when freebies are released, be sure to follow me on:
Facebook
Twitter
Pinterest
Instagram
Google+
or: