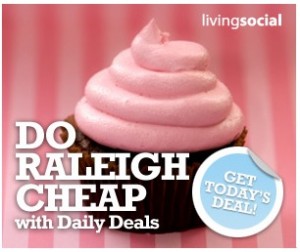 What is LivingSocial?
The Daily Deal
Each day, LivingSocial will send you one deeply discounted deal to use at local businesses. Sign up to get the daily email.
Click to Buy
Purchase the daily deals with one easy click. You will receive a link to your voucher the next business day.
Share for a Free Deal
After you buy the deal, you'll get a unique link to share. If three people buy the deal using your link, then your deal is FREE.
Share with Your Friends
When a friend uses your link, they'll get 5 Deal Bucks to help them buy their first deal. Once they do, you'll get 5 as well!