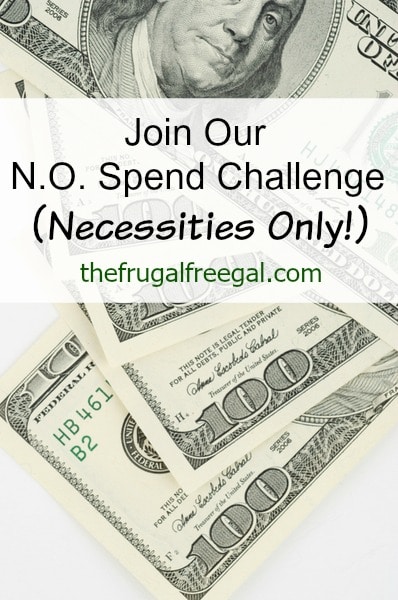 This post is written by Mr. Frugal!
We are going on a NO spend challenge!
Well, it's a N.O. (necessities only) spend challenge. My wife and I have become very serious about budgeting in the last 7 months. October, November, and December are notorious months for spending money on things that we want, and not necessarily what we need. There is nothing wrong with enjoying the last quarter of the year. Halloween, Thanksgiving, Christmas, and birthdays (at least in our family) are a cause for celebration, but these occasions do tend to put a dent in your pocketbook. Fortunately, we planned for the extra spending before the holiday months. For example, in November and December, we budgeted extra money for groceries, gifts, eating out, and holiday meals with friends and family.
The goal of the N.O. spend challenge is to make us think twice (and choose not to spend) before we swipe our debit cards. In my opinion, one of the best ways to get a raise and to save money quickly is to stop spending your hard earned dollars! You work hard for your money. Pay close attention to what you are buying and ask yourself these questions before buying:
Can I afford this?
Is this a need or a want?
Where will I put/store this in my home?
Do I have something like it that I can use instead?
Is this an impulse purchase (Sometimes our moods can highly affect our purchasing decisions!)
Can I borrow this item from a friend or family member instead of buying it?
If it's an item that you still think you absolutely need, consider waiting 30 days. If after 30 days you still feel that you *need* this item, then purchase the item.
This N.O. spend challenge is not a New Year's resolution, but instead we want to continue to be good stewards of our time, talents, and money this year. We have created and stuck with a budget for the first few days of January and plan to keep it up all year. The only 3 expenses that have come out this month are:
Tithe to the church
Groceries
Rental home mortgage
Our other monthly bills will come out as usual throughout the month, but we hope to stay out of retail stores and thrift stores this month to avoid purchasing items that we don't need.
Here's an example of saving vs. buying. The other day, I misplaced a pair of sunglasses. I considered buying another pair to keep as a spare. I knew that I hadn't lost my sunglasses, but I *wanted* an extra pair, just in case. After thinking about it, I knew that this purchase wasn't in the budget and it was a WANT, not a NEED, so I walked away. As luck would have it, my wife was picking up around the house and found my missing pair of sunglasses. It was very tempting to have another set, but I don't need another set. I'd rather save that money instead.
Start the New Year off right with a N.O. spend challenge. By going on the N.O. spend challenge, we hope this allows you to have more money in the bank to help pay off any debts, save for your future, and give to others!
Will you be joining the N.O. spend challenge with us? What are your money saving goals for the new year?