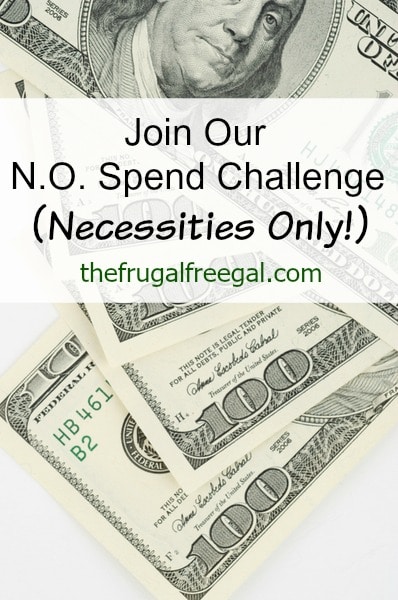 It's day 5 of our January "N.O. (Necessities only!) Spend Challenge."
Why are we doing a "NO Spend Challenge?" It's a new year. We want you to pay off your debts, save for you and your children's future, and give more to others! We want you to feel joyful and content with what you have and live a life without financial stress. You can still "spend" money on a "no spend challenge," but we want you to try to purchase only the things you absolutely NEED during the month and refrain from impulse purchases and "want" items.
I wanted to report to you how our no spend challenge is going. After a long holiday season, it's nice to get back to saving more money vs. spending on holiday gifts, holiday dinners and parties, etc.
SO here we go. Here's what we have spent so far.
January NO Spend Challenge Day 5 Update

1/1 – Rental Mortgage Bill – This payment comes out automatically every month for our rental house that we have in another state. We receive our rent check for this home in the middle of the month.
This is our only debt and we are working to aggressively pay it off by making an extra payment or two each month. Our goal is to have it paid down in 5 years or less, a very aggressive goal, but with "gazelle" intensity, I think we can get there. This no spend challenge is helping to pay down this debt.
Romans 13:8 – Owe no man any thing, but to love one another: for he that loveth another hath fulfilled the law.
Proverbs 6:5 – Free yourself, like a gazelle from the hand of the hunter, like a bird from the snare of the fowler.

1/3 – Groceries (including toilet paper/hair conditioner) – We were out of food after our company left around the new year. We restocked enough to last us hopefully through next week. The toilet paper was a need as was the hair conditioner. My hair is SUPER thick and I can't get by with just shampoo. I did use some of my conditioner from my freebie stash to get by before I needed new conditioner.
1/3 – Tithe to church – We have a tithe automatically taken out every Sunday of each month = 10% of our income. The truth is, we can't afford NOT to tithe. When we tithe, we do see God's blessings pour out from Heaven! When we don't tithe, we feel financial burdens. I don't even want to go back to NOT tithing, so that's why we have it all set up on automatic payments. We still try to leave a little something in the church plate, too. It's hard for me to tell the offering plate "no" on a Sunday when I know we can give something even when our tithe is automatically set up online.
Malachi 3:10
Bring the whole tithe into the storehouse, that there may be food in my house. Test me in this," says the Lord Almighty, "and see if I will not throw open the floodgates of heaven and pour out so much blessing that there will not be room enough to store it.
We've tested Him and truth is, from what we've seen, you really can't out give God. When we give, we see it all come plus more in pretty amazing ways.

If you would like to start tithing or give more of your income away but are having trouble starting, this book about giving may help. I came across this book a few months ago in a thrift store and it's an easy read if one of your goals is to give more this year!
1/4 – Haircut for hubby + Tip for stylist – I wish I knew how to cut hair! It sure would save us money each month. This is a need for his job in the military.
1/5 – Gas for hubby's vehicle. Thankfully we don't have to travel too far away from home for work. I work from home and hubby works close to home and that helps keep our gas bill low. I get to walk to pick up my daughter from school, so I rarely drive anywhere during the week unless it's somewhere we HAVE to go. There are plenty of parks, daily walks, etc. that we can take advantage of when we get stir crazy.

Other than that, we are still rocking the January NO Spend Challenge. Everything above are necessity items. I haven't ventured out into any retail stores, convenient stores, or shopped at online retailers. We haven't eaten at any restaurants. Because we've done the no spend challenge before, it's a bit easier this time around. I will say that if you are not used to a no spend challenge, it can be just that — a challenge! Keep at it and remember, one of the BEST WAYS to SAVE MONEY is to stop spending it!
Blessings to you all. – Brittany
How are you doing on your no spend challenge?