This simple craft is a beautiful way to bring Christmas cheer to your home. It is quick and easy to make and can be hung on your mantle, doorway, wall or used as part of a table center piece (as shown below). It costs very little to make as well!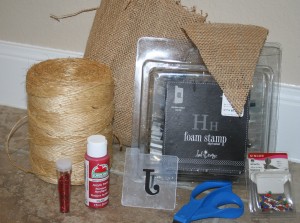 Supplies Needed:
Scissors
Burlap
Twine
Red acrylic paint
Red glitter
Hot glue gun
Ruler
Chalk
Letter stencils or stamps
Instructions:
Draw a triangle shape onto a piece of paper using a ruler.  Cut the triangle out.  Use chalk to trace the triangle shapes onto the burlap so that each triangle is the exact same.  Cut out the burlap triangles.  You can choose the size of your triangles depending on where you are hanging it.  If you want to display a different Christmas word (noel, love, etc.) then you will need more than three triangles.  Using the red paint, stamp each letter on each triangle.  Sprinkle each letter with glitter while the paint is still wet.  Cut a piece of twine the correct length (depending on where you are hanging it).  Once the letters are dry, use your hot glue gun to glue the triangles on the twine.  It is now ready to hang!!