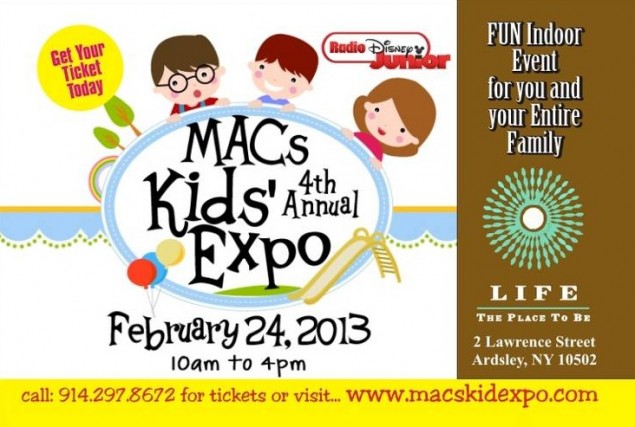 Are you in the NY area and looking for something fun to do with the family? Check out this great event!
It may be cold outside but the fun will be going on this weekend :  Sunday, February 24, 2012
Where:  Life the Place To Be
2 Lawrence Street, Ardsley, NY 10502 (Right off the Saw Mill River Parkway; Exit 16).
Northbound (Make Right) Southbound (Make Left) Free Parking on premises!
Time: 10:00 a.m. – 4:00 p. m.
MACs Kids Expo 2013 is in its 4th year bringing fun-filled activities, educational and informative information to families all over Westchester County and the Tri-State NY areas. All day activities including Rock Climbing, Laser Tag, Live musical performances, Social Media Lounge for Mommy bloggers Powered by Happy Family! Where you can tweet to your heart's content!
Tickets are normally $25 per family of 4.  If you order your tickets NOW, it will be $12.50! (Link) Use Discount Code: MACS4  Tickets include Rock Climbing and Laser Tag ($14.00 value)
Mommy bloggers come spread the word about your blog, try some new products, gain some new followers, MACs Kids Expo will be your new found networking community!
The  Happy Family lounge at the Expo is going to be Fun!  Happy Family provides organic, nutritionally rich foods for babies, toddlers, kids, and even adults! It's the healthiest on-the-go food you can get for all ages, all stages Happy Family will be giving out coupons and raffling off a gift basket.
There is something for everyone at this event. You won't want to miss it!
If you are new to the MACs Women's Group organization, here is a little of who they are: MACs Women's Group was founded on the dream of creating a virtuous place where women would get together, who wanted to share the successes of entrepreneurship with a strong bond to family. Since then, MACs Women's Group has grown leaps and bounds to host dozens of events with major successes like the MACs Kids Expo and the Women's Entrepreneurs Summit
Powered by Happy Family